Are you looking for the ideal cabin to add that rustic charm to your Lakeshore vacation?
Look no further because here is a list of the best cabins overlooking Beaver Lake!
In the Northwest of Arkansas, 31,700 acres of crystal blue water that make up Beaver Lake, lie surrounded by the majestic Ozark Mountains.
It was created by damming the White River and boasts 483 miles of shoreline for visitors to explore.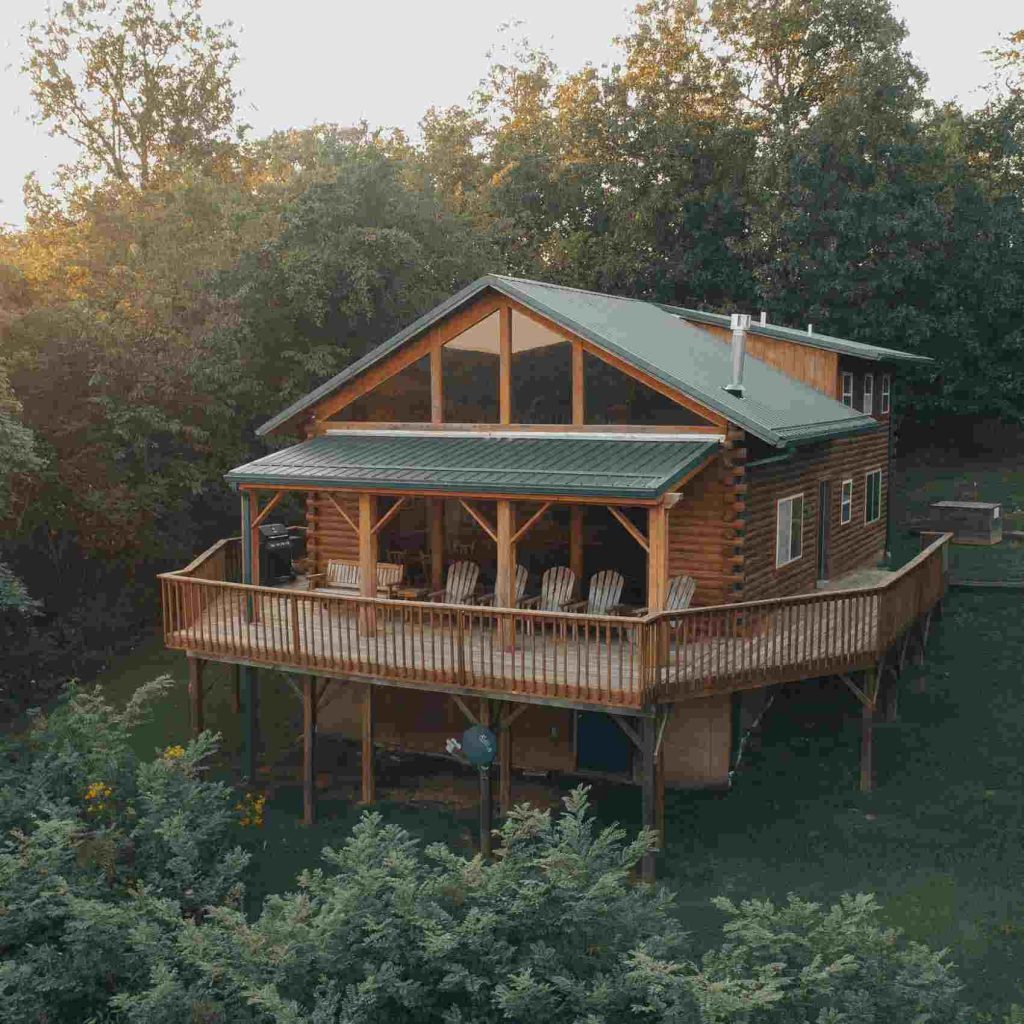 The man-made reservoir attracts nature lovers all year round to relax by the serene lakefront or partake in the several recreational activities offered at the Lake.
If you visit Lake Beaver, there is a lot to keep you busy!
From fishing, boating, and swimming to camping and hiking, all sorts of outdoor activities are offered.
Or if none of these are for you, there is nothing quite like lazing around at the beach with a chilled beverage and a sunhat to feel relaxed.
Cabins At Lake Beaver
Whether you're thinking of a weekend getaway or a trip with all of your friends, you will surely find a cabin that will work for you, in this list.
Beaver Lakefront
Beaver Lakefront cabins are designed with comfort, convenience, and luxury in mind.
These cabins are only eight miles from Eureka Springs, Arkansas on the eastern end of Beaver Lake, providing picturesque views through the enormous glass windows facing the Lake.
The exterior boasts a shaded sun deck and a screened-in patio furnished with tables and chairs, perfect to start your mornings or watch the brilliant colors of the sky as the sun sets over the majestic Ozark Mountains.
You can also enjoy a moonlit dinner or barbeque taking advantage of the gas grill provided.
The cabin itself is built to accommodate two people and comprises walls ten feet tall, an open floor plan, and a cathedral ceiling to further enhance the spacious layout.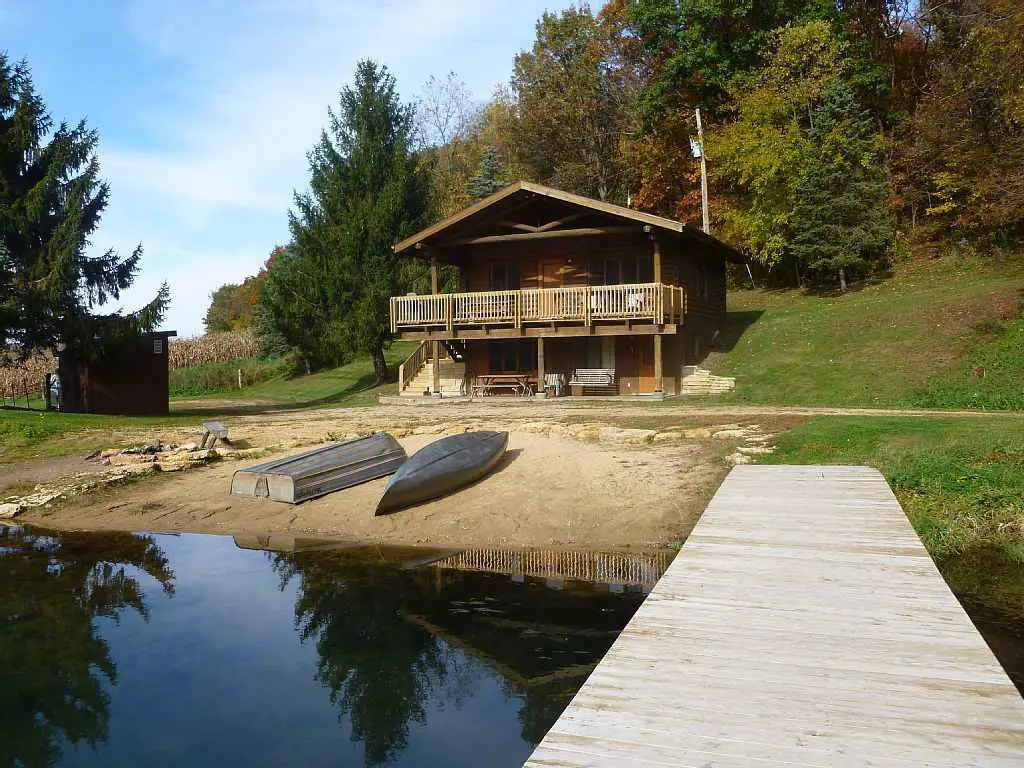 It is furnished with a jacuzzi built into the glass front wall, King-sized bed, a walk-in shower fitted with hydro-massage, and a kitchen well equipped with modern appliances.
There is also a seating area comprising comfy armchairs facing a cozy Native Stone gas fireplace and 55″ 4K HD television and a 5.1 state-of-the-art sound system. 
Of course, the free Wi-Fi, high-quality satellite connection, and an online and DVD collection of over 900 movies is also a great bonus!
Lastly renting these cabins also allows you to use their Lake facilities that include an indoor, heated fishing room, rental canoes, kayaks, paddle boards, touring pontoon boats, and pedal boats.
LAKESHORE CABINS ON BEAVER LAKE
The Lakeshore Cabins are custom-built cabins situated nine miles from downtown Eureka Springs overlooking the beautiful Beaver Lake and about four miles from the White River and Beaver Dam.
The Lakeshore Cabins offer a variety of lodgings. 
You can choose from eight of their quaint and authentic log cabins, one Lake House, or from two of their top-tier luxury log-style suites that come fitted with a jacuzzi!
The Lakeshore Cabins are ideal for family vacations, girls' trips, or a couple's retreat.
The cabins can accommodate two to ten guests and it is fully furnished with all amenities that may be required.
All the accommodations have a fully equipped kitchen, air conditioning and heating, a satellite TV, a DVD player, and unlimited access to a huge online collection of movies.
The accommodations also feature a jacuzzi, and gas BBQ grills but the highlight of your stay will be the private sun deck.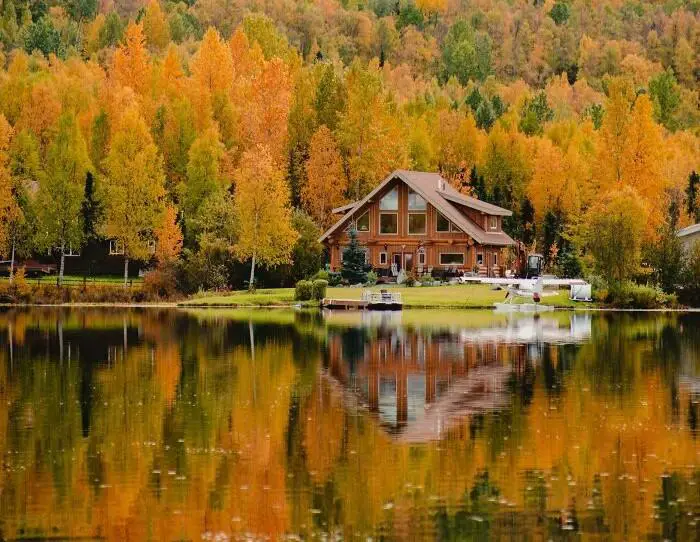 The covered sundeck offers the most splendid views of the crystal clear waters of Beaver Lake and the wildlife surrounding it. 
So be sure to bring your camera to capture the finest views of the Lake!
The Lakeview cabins offer a private dock at the Lake as well.
You can go swimming, fishing, or lounge in the sun and make use of the picnic tables shaded by cute umbrellas and the deck chairs available!
You can also rent fishing boats, canoes, and kayaks just 1.5 miles away at the Starkey Marina.
Sugar Ridge Resort
Sugar Ridge Resort is an upscale resort that lives on a sprawling 75-estate atop a mountain ridge. 
The unique location allows all the cabins to have breathtaking views of the stunning Ozark Mountains and calming waters of Beaver Lake from all sides.
Another benefit is that all the lodgings have a secluded feel to them when in fact they are only twenty minutes away from the lively downtown of Eureka Springs.
The location alone will make your decision to stay at the resort.
The resort offers four Lake View Suites, six Couples Cabins, and two Double-Story Family Cabins. 
So whether you're planning for a wedding, anniversary trip, romantic getaway, or a week's summer retreat the resort has you covered!
Two Story Family Cabins
The double-story family cabins sit on one end of the ridge overlooking Beaver Lake.
The cabins are created using an open floor plan. 
The amenities include a full-sized kitchen, a dining room, and a large living room along with a loft and master bedroom.
And last but not least, a grand wood-burning fireplace perfect to snuggle in front of, to end your nights on a high note!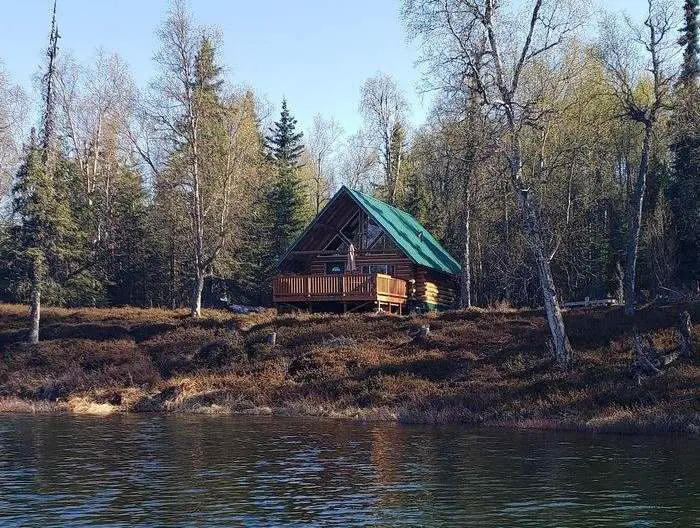 The master bedroom has a king-size bed and a private bathroom fitted with a fantastic double-jetted tub. 
The loft provides two queen-sized beds.
The basement has two king-sized bedrooms, another living room, and a full bath.
So, it can comfortably sleep up to 14 people. 
Couples' Cabins
The Couples' Cabins are the quintessential log cabins. 
Their highlight is their charming construction giving you that classic experience of a secluded in the woods retreat. 
The cabins feature gorgeous vaulted ceilings, beautiful cedar beams, glass French doors, and a private porch to relax amidst the astounding beauty of the Lake.
Edgewater Lodge
The Edgewater Lodge is a four-bed and four-bath featuring cabin in Sylvan Shores, Eureka Springs. 
It is one of the more suitable options for large families or wedding parties planning a trip.
It is affordable and can accommodate a large group of people while still ensuring privacy and gorgeous views of Beaver Lake.
The Edgewater Lodge is pet friendly and also only twenty minutes away from amusement parks to keep the kids entertained!
When planning your trips, make reservations well in advance and pack loads of food, sunscreen, and your favorite swimsuits!