Arkansas holds its natural beauty as a treasure and its claim to fame.
One of the most enjoyable experiences to have in Arkansas is going out camping—it is like a breath of fresh air, a trip to simpler times.
The forests, state and national parks, rivers, lakes, and mountains, all club in to make Arkansas a paradise for campers.
The best part is, you don't have to wait for a certain season to enjoy camping in Arkansas, rather the moderate temperature allows you to do so all round the year.
Usual activities you can enjoy include preparing some great food like s'mores, grilled burgers, going swimming and making glorious memories with your friends and family.
The state's crystalline lakes really set it apart from other places, besides the one of its kind splendor of cliffs, diamond deposits, waterfalls and bluffs.
You can also enjoy rock climbing, horseback riding, hand gliding, ATV riding, fishing and even diamond hunting!
No matter what location you pick, camping in Arkansas will be a memorable adventure.
Let's have a look at some of the best places to pitch your tents in Arkansas!
Buffalo National River
If you are among those who enjoy a nice float trip, going for camping to the Buffalo might be your thing to do.
Even if you do not do it yourself, it is a lot of fun just looking at others doing the activities!
There are multiple campgrounds present across the park.
They range from those with just primitive vault toilets and no water and designated sites, to those having been developed with water and electric hookups for camping.
The Buffalo river has many places for camping, of which Gilbert and Kyle's Landing stand out amongst the rest.
Kyle's Landing
This campground is around halfway between Jasper and Ponca, Arkansas off the Highway 74.
There are 33 sites on the campground and is open throughout the year, on a first come first served basis.
The road leading to Kyle's landing is a rough, gravel road for which one ideally needs a 4-wheeler vehicle drive along with high clearance to visit the campground.
Gilbert
Downstream from the access point, there is Gilbert gravel bar that is available for drive in camping.
Although there are no picnic tables, designated sites or portable water and fire rings available at the site, but Gilbert is a pack in and pack out facility.
This means that since there isn't any trash service available, pack out everything that you pack in. This helps the river stay clean.
Before heading over to Gilbert for a camp, don't forget to check the river levels to make sure it isn't flooded.
Blanchard Springs Recreation Area
If you camp at Blanchard Springs, you will have a unique experience at this absolutely beautiful area of Arkansas.
It is in the heart of Ozark National Forest, which is famous for its hidden caverns, clear flowing streams, waterfalls and beautiful rolling hills.
All campsites present in Blanchard Springs Recreation are given on a first come first served basis.
There are campfire rings, tables and grills to let you enjoy your camp out. Drinking water and flush toilets are also present.
Toad Suck Campground in Conway
There is a high probability that most tent campers present in Central Arkansas will head over to Toad Suck Campground for a quick and relaxing getaway.
There are 48 sites at Toad Suck with water hookups and picnic shelters.
Other amenities include boat ramp, hot showers and multiple playgrounds.
Bull Shoals-White River State Park
White River is a great place to experience tent camping at.
It is known for its trout fishing, Bull Shoals which lies right along the White River and Bull Shoals Lake.
Visitors have 113 campsites to camp at as they venture down along the White River.
There are three sites for rent an RV as well in the same place.
You must not miss the huge visitor center present here on your trip-there is a beautiful theater and visitor exhibit hall in there, where you can hear out on your fishing stories.
Interpretive programs including demonstrations for campfire cooking will help you cook during your stay in the park, and even become famous for it!
JFK Campground and Recreation Area
There are 68 campsites on this campground, having electrical hookups and 44 of these also have water hookups.
In addition, there are other amenities available as well including picnic shelter, flush toilets, dump station and boat ramp.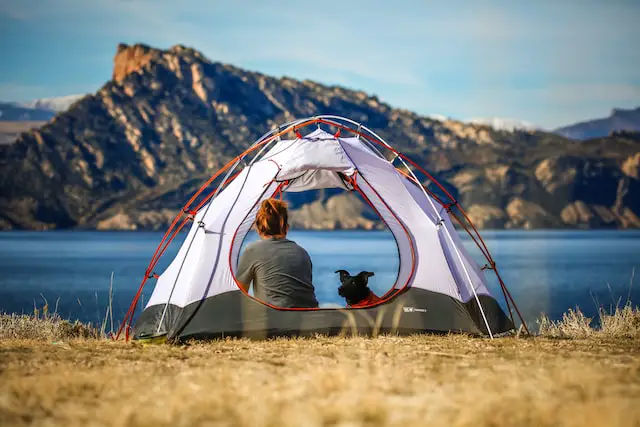 JFK Park is along the Little Red River that is one of the best spots to fish trout in Arkansas and is tail water of the Greers Ferry Dam.
You can also just walk up to the Greers Ferry National Fish Hatchery and have a look at thousands of trout right in front of you.
The Collins Creek Trail and Cascade is also just a walking distance from the JFK campground, making it the perfect place to camp and enjoy waterfall views and hiking adventures!
Old Highway 25 on Greers Ferry Lake
This one is a favorite to camp for many, and highly recommended by the locals.
The campground is beautiful and is relatively less populated than other campsites right on water, like the Dam Site Campground in Heber Springs.
It is in the striking Ozark Mountain, and the entire environment around this place makes it the ideal location for family camping, hiking, boating and fishing.
Shady Lake
The unique element about this campground is that it lies at the edge of a stunning 2-acre lake.
This remote mountain setting is perfect for tent camping, and you can enjoy the Shady Lake trail during your stay as well.
The Shady Lake Trail crosses the Saline Creek and passes through the historic Shady Lake Dam.
It continues along the campground's eastern edge and is ideal for day hiking. This trail may also be used for mountain bikers.
Cossatot Reefs in Southwest Arkansas
Along the lush banks of Gillham Lake in Southwest Arkansas, sits the beautiful Cossatot Reefs Campground, also called the Bright Spot on the Coassatot.
It is a beautiful, shady place to pitch your tents along the Gillham Lake which is a recreational oasis for outdoor lovers.
There are 31 shady campsites, drinking water, hot showers and flush toilets present here.
The small sized campground is a nice and quiet place to relax in and build a campfire around, as you enjoy the lake view.
Woolly Hollow State Park in Greenbrier
The Wooly Hollow State Park is not just one of the most amazing sites for camping near water, but it also has one of the best fishing banks in Central Arkansas.
You can experience swimming, boating and fishing at this classic state park, on the 40-acre Lake Bennett in Greenbrier, around 18 miles north of Conway.
The facilities in the park include 10 tent sites, 30 AAA campsites, and a bathhouse for you to take hot showers.
Crater of Diamonds State Park, Murfreesboro
If you are looking for a free diamond, we suggest planning a camping trip to the Crater of Diamonds State Park!
Ever since Crater of Diamonds became a state park, visitors have found over 33,100 diamonds here!
You can just pay a nominal amount in fee, to look for diamonds here and keep as many as you find.
It is the only diamond producing volcanic pipe open for public in North America.
Among the notable ones include the 40.23 carat Uncle Sam, which is the largest diamond unearthed in the U.S. till date, the 16.37 carat Amarillo Starlight, the 15.33 carat Star of Arkansas and the 8.52 carat Esperanza. 
There are 47 AAA campsites and 5 walk in tent sites in the state park.
The Mississippi River, one of the longest rivers, borders to the east, with lush forests like the Ozark in the North Arkansas is a true gem that waits for you to discover it.
So, pack up your camping essentials and head on to these sites, and have the best camping experience you have had!