Arkansas is a state known for its stunning natural beauty with its wilderness areas, and terrain embellished by mountains, caves, rivers, and hot springs.
Most people know Arkansas's capital, Little Rock for the Arkansas Museum of Fine Arts, and an abundance of green parks like the La Petite Roche Plaza.
But what's little known about Little Rock is its food scene.
In recent years, the city has seen an increase in interest in different cuisines. 
So more and more restaurants keep cropping up in the city.
The city offers a range of dining experiences from wholesome breakfast joints and customary bars all the way to sleek and elegant fine dining.
Arkansas is known for its love of cheese dips so Mexican cuisine is naturally popular.
But Little Rock has so much more to offer!
From authentic Asian flavors, Mexican delicacies, and Southern specialties to European fusion dishes you have an infinite variety to choose from.
For a quick meal, Little Rock has many fast-food joints as well.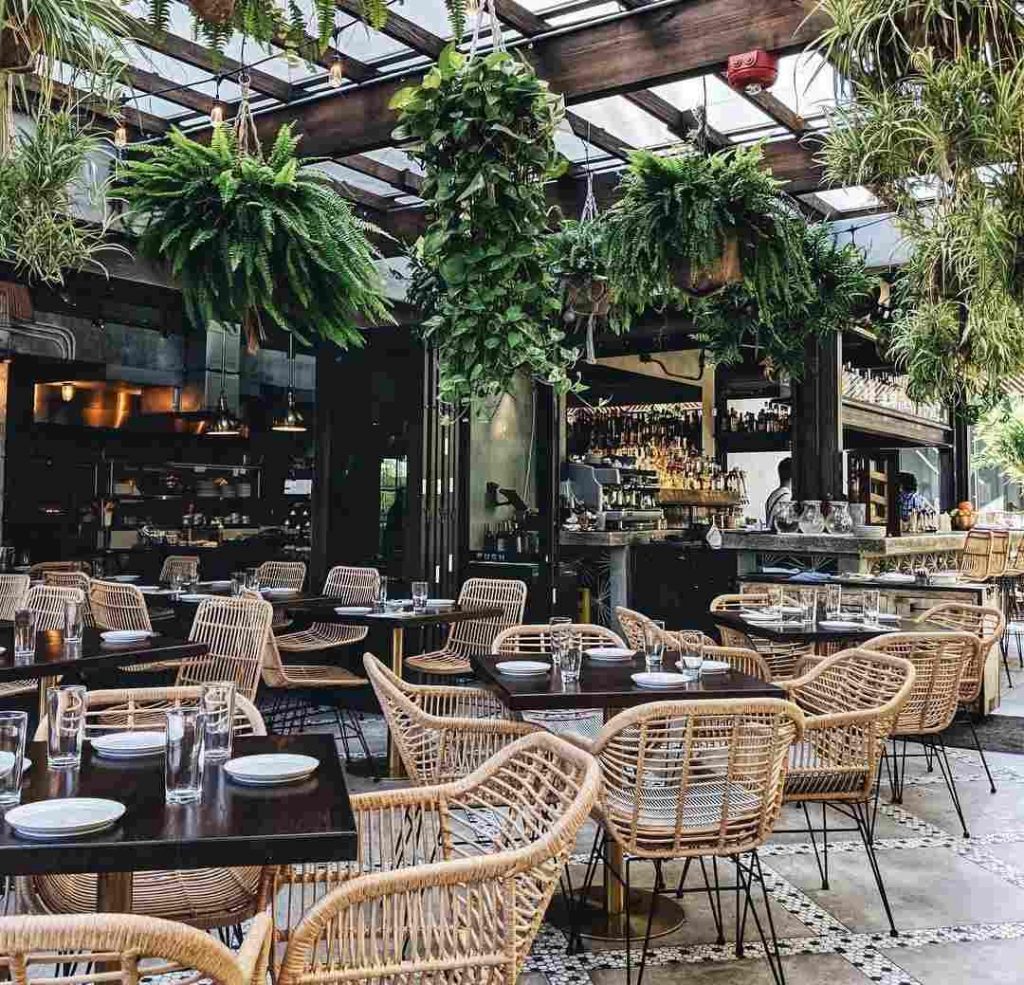 Burgers, salads, or pizza paired with a chilled margarita is the locals' foolproof choice.
Popular dishes served locally include pulled pork and chicken sandwiches, brisket, and ribs served with traditional side dishes.
Little Rock also has a quickly blossoming craft beer scene that beer connoisseurs can look forward to.
So if you're planning to visit Little Rock or preparing for dinner out this weekend you need to look no further than this list!
Kemuri
Kemuri is a fine-dining restaurant, known for the best Japanese cuisine available in Little Rock.
They are self-proclaimed sushi experts in the area and invite you to visit and try out their sushi rolls and sashimi.
The sushi served has an extraordinary taste ranging from traditional to unique and distinctive flavors that have become their signature. 
Popular dishes include Crazy Monkey and Mummy Rolli.
Their seafood is another feature that is just incomparable to any other restaurant. 
Freshly sourced each day, from their house special Ceviche to Hamachi tartar, and Black Cod each dish displays a delicate flavor that surprises the most refined palate.
Their calamari is also the best! 
Other than the exceptional cuisine, the ambiance and sleek interior also attract guests from everywhere. 
The modern architecture and decor add an unmatched elegance to the whole fine dining experience.
If you visit, be bold and try the Green Tea Pancakes, you'll find them absolutely divine!
In Little Rock and have an affinity for Japanese cuisine? Eat at Kemuri.
Address: 2601 Kavanaugh Blvd., Little Rock, AR 72205
THE PANTRY
This restaurant offers a diverse selection of dishes to choose from. 
The menu is heavily infused with European influences and also features specialty cocktails and a great selection of wines and beer from all across the globe.
Kick off your meal with Boulevard Bread Co. Ciabattini with Kalamata olive spread, pesto, and EVOO, and try the classic European Schnitzel topped with the creamiest mushrooms or the Nurenberger with a seasonal salad on the salad for the main course.
To cool off this summer, The Pantry has the most refreshing selection of cocktails with The Diplomat's Game and Almost There ranking high on the list.
Address: 11401 N Rodney Parham Rd., Little Rock, AR
BRAVE NEW RESTAURANT
The food is amazing; every bite is an ethereal experience. 
As if they make their own sauces from scratch and attend to every detail of the meal to make the dining experience everything you might expect from a five-star restaurant. 
What a lovely view: the river; the wildlife around the river; the sun; Surreal!
YaYas Euro Bistro
The Yayas Euro Bistro is a modern but whimsical bistro that offers a diverse selection of cuisine.
The word Yaya means grandmother, and the bistro was named after Paul Khoury's grandmother who as the wife of an ambassador traveled extensively, especially through the European continent.
The owner took inspiration from her recipe to create an exemplary menu that can not be replicated elsewhere.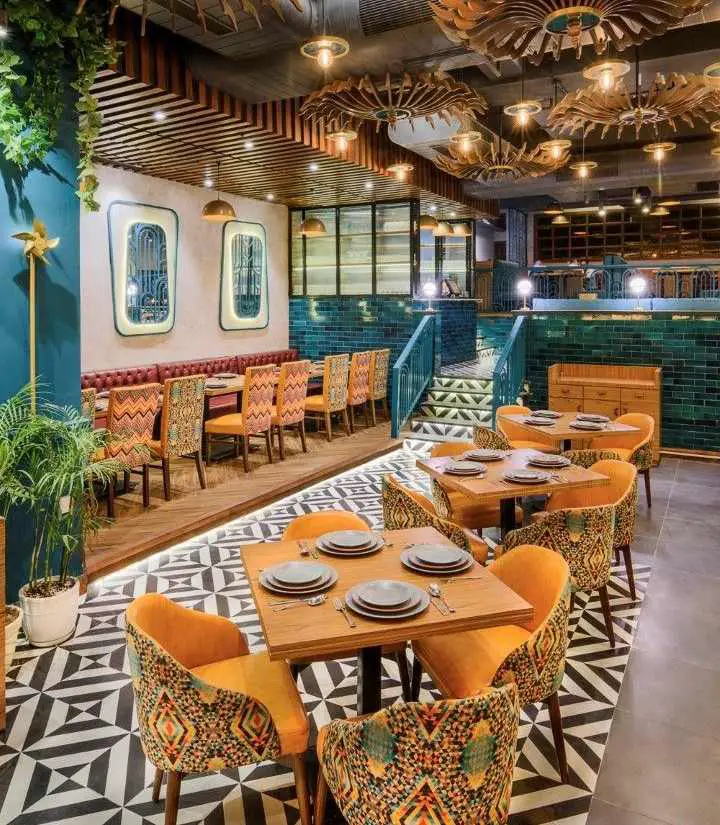 The interior is mosaic tile floors, stone columns, and fabric-covered wall panels pleasantly contrast the heavily beamed ceilings, glass chandeliers, and intricate wrought-iron railings. 
The bistro gives off an upscale European flair and has a pleasing ambiance to match.
As for the food, at the Yayas Bistro, there is something for everyone!
The menu features many cuisines including American, European, French, Italian, Greek, Mediterranean, and European fusion dishes. 
They have the freshest seafood but also vegan and gluten-free options for those who desire them.
Their appetizers are excellent, especially the bruschetta and their entrée salmon is one of a kind.
Sunday Brunch at Yaya is a must for any trip to Little Rock!
They have an early bird special before 11 am and it is worth taking advantage of        
Omelets, waffles, salads, prime rib, pasta, and desserts are just a few of the gems you'll find.
Address: 17711 Chenal Parkway, Little Rock, AR 72223
Local Lime
One of Little Rock's renowned restaurants with one of the most mouthwatering, fresh Mexican food Little Rock offers!
A flavor-packed menu inspired by Mexican street fare, Latin-American flavors infused with a Texas Mexican flare, and delightful cocktails crafted with high-quality tequila, mezcal, and fruit extracts.
Each recipe on the menu is carefully designed with love and attention to detail.
The queso is creamy and decadent, and the Nachos here are feta flavored and delicious! 
And don't forget to try their signature zucchini salsa!
This upscale Tex-Mex eatery is on the pricier side but every cent you spend here buys premium quality cuisine.
It is renowned locally, so it fills up fast-plan accordingly and arrive as early as you can.
Address: 17815 Chenal Pkwy Ste F105 Chenal Promenade Shopping Center, Little Rock, AR 72223-5824
BRUNO'S LITTLE ITALY
This is a family-owned Italian restaurant that offers one of the highest-ranking Italian food in Little Rock. 
The restaurant has a warm and cozy vibe and the entire experience of eating at this family restaurant leaves you thinking of home.
On Main Street, Bruno's Little Italy is close to the city center and has convenient parking close by.
Eating out on the open-air patio, you'll enjoy watching the heart of the city bursting with activity and charm.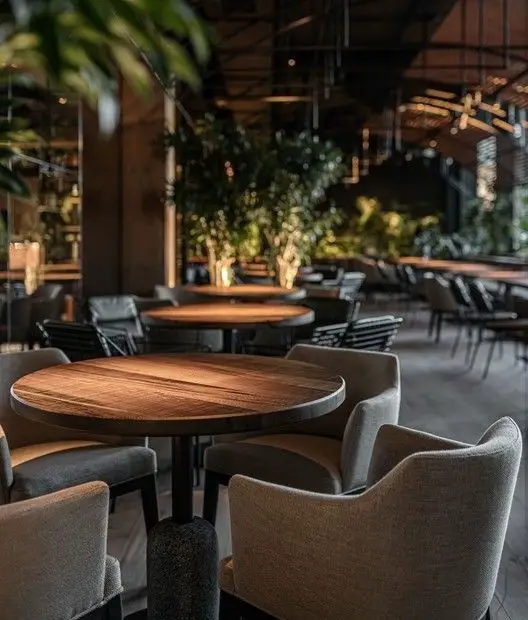 The warm, buttery bread, decadent ravioli, and refreshing drink complimented by the summer breeze will satisfy your appetite and taste buds alike.
Their pasta is light and tender, white sauce is rich and marinara is well seasoned and worth the hype.
Don't forget to try out their desserts and end your meal on a high note.
The tiramisu and strawberry bellini are staff picks!
The atmosphere is relaxed and ambient; the staff is attentive, and best for the last-it is also pet friendly!
Address: 310 Main Street, Little Rock, Arkansas 72201.
Buenos Aires Grill and Café
Five years ago, an Argentinian couple opened the Buenos Aires Grill and Café and brought to reality their lifelong dream of opening a restaurant.
This is an amazing restaurant that serves authentic Argentinean cuisine prepared to express the passion true to Latin hearts!
All their recipes are rich in traditional flavors combining the variety found throughout Argentina because of the immense cultural diversity there.
Some recipes also incorporate Italian and Spanish influences to create unique and absolutely finger-licking greatness!
Their Grilled Argentinean meats, sandwiches, salads, beef empanadas, flank steak with fries, and their specialty: the Buenos Aires Mixed Grill which comes with Skirt Steak, Flank Steak, Chicken, Shrimp, and Bratwurst are especially popular.
With a huge outdoor patio, the atmosphere is vivacious, and the area is spacious and airy. 
The wait staff is friendly and provides great service.
You will not be disappointed!
Address: 614 President Clinton Ave, Little Rock, AR 72201-1732
MADDIES' S PLACE
Playful eatery offering New Orleans-style dishes and a small bar area for some refreshing drinks.
They're known for their po' boys & jambalaya but their lump crab meat dip with pita chips is absolutely divine!
This is a Little Rock gem offering sugar, spice, and everything nice!
With quality service, cozy, colorful vibes, and splendid food, you just can't go wrong with Maddie's Place.
Address: 1615 Rebsamen Park Rd., Little Rock, AR 72202
THE FADED ROSE
Open since 1982, The Faded Rose is a Little Rock classic.
Born and raised in New Orleans, Ed David was determined to bring authentic Creole and Cajun cuisine to Arkansas' capital.
This place has the best seafood, steaks and more dished up in a roadhouse-style venue with a patio.
 You won't regret it.
If the prime rib is available, get it-because it's just that outstanding and the reason they have regular customers.
If you want something that will put you in that glorious comfort food sleep, get the shrimp and grits Southfork Treehouse.
All the po' boys are excellent, but get the soft-shelled crab if you have to pick one.
Address: 1619 Rebsamen Park Rd., Little Rock, AR 72202
Petit & Keet
The restaurant is a collaboration of Jim Keet and Louis Petit and serves a casually polished metropolitan essence created with immense thought and care.
The place is perfect for eating out with family, and going out for drinks with friends-courtesy of the full bar offering specialty drinks, cocktails, and a signature bar menu.
Event rooms are also available for private parties and it has one of the best patios in Arkansas.
This newly redesigned restaurant has a menu comprising recipes and dishes crafted by renowned local chefs that use locally sourced, good-quality ingredients.
The menu served is Contemporary American cuisine.
The management team actively takes part in the service and visits each table to ensure the experience meets your expectations
A large variety of elevated comfort classics such as Tempura Calamari and Panko Crusted Avocado with Crab Ceviche appetizers are a must-try! 
The entrees include Charred Miso Salmon, delicious steaks, and a Bone-In Berkshire Pork Chop. 
Innovative twists on classic cocktails, an impressive wine list, and a large bar make it perfect for a chill night out.
Address: 1620 Market St, Little Rock, AR 72211
THE ROOT CAFE
This is a fun cafe with a great outdoor dining setup!
It has a youthful ambiance with a hint of rustic, bohemian chic that is trendy but also comfortable.
They pride themselves on using the freshest locally sourced ingredients.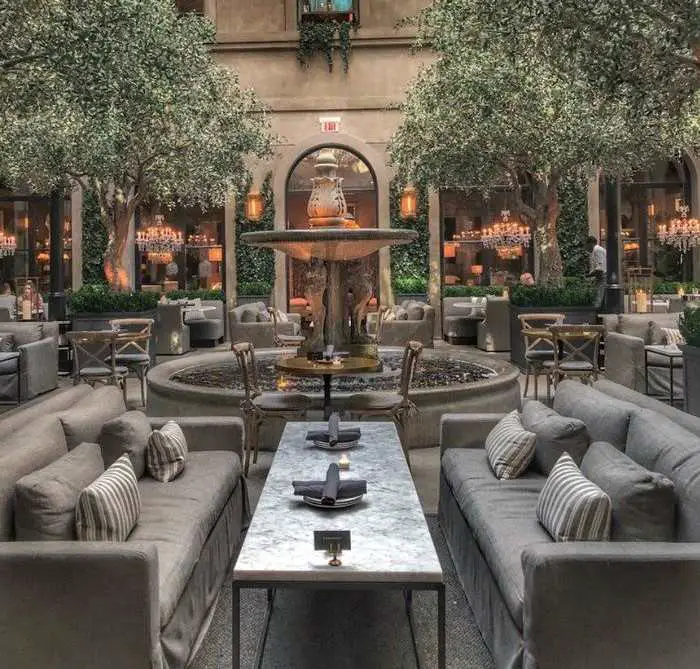 They offer a well-rounded selection of high-quality, American-style meals that have a warm, home-cooked feel, with an emphasis on local producers and produce.
The food is amazing, and portions are generous, and the service is impeccable.
There are also good choices for vegetarians and vegans, which isn't always easy in Little Rock.
Address: 1500 Main St, Little Rock, AR 72202-5038
The Pantry Crest
The decor is shabby chic, and rustic but elegant, and the atmosphere is laid back, along with a full bar, an exclusive European menu, and huge, picturesque windows. 
All of it comes together to bring you an extraordinary experience. 
The entrees include a unique lasagna that isn't typical but has a quite distinct Eurocentric appeal. 
Add to this a glorious specialty cocktail menu and amazing table service, and what more could you ask for? 
A fantastic place to spend an evening with friends, and family or even to go for drinks with colleagues. 
If you get the chance, enjoy the upstairs dining area where the architecture, artwork, and views will ensure a relaxed yet sophisticated meal.
Address: 722 N Palm St, Little Rock, AR 72205
Allsopp & Chapple Restaurant + Bar
Allsopp & Chapple Restaurant + Bar is another fantastic addition to the Main Street corridor that is built into the historic Rose Building which was envisioned by the designer of the Little Rock State Capitol
This chic eatery is a great place to unwind after a day perusing through antique shops, and visiting markets, parks, and museums of downtown Little Rock.
The Modern bistro interiors are designed with exposed brick giving a modern aura.
The menu features eclectic New American dishes and extraordinary craft cocktails.
This fine dining experience is a smooth operation with a charming ambiance and professional and friendly staff that provide outstanding service.
The food itself is flavorful and deliciously well prepared.
The savory crawfish bread pudding, decadent lasagna, Gulf shrimp and grits entrée, succulent pork chop, and extensive wine list have all garnered great reviews!
The owner Jay Cowley answers queries and complaints online and is deeply invested in ensuring an ideal experience at his restaurant.
Address: 311 Main St, Little Rock, AR 72201
Samantha's Tap Room & Wood Grill
A more upscale eatery located amidst the hustle and bustle of downtown Little Rock, Samantha's Tap Room & Wood Grill is known for its American Cuisine, wide alcohol selection, patio seating, and excellent table service.
If you consider yourself to be a beer or wine connoisseur, Samantha's is not only one of the best restaurants in the city, but it is also the only one to offer all 32 beer and 20 wine selections on tap.
Be sure to check out their delicious quail breast wrapped in bacon and stuffed in jalapeno peppers while you're there!
For people that follow special diets, Vegetarian Friendly, Gluten Free, and Vegan Options such as Grilled Artichokes are also available.
If you are planning for an event comprising fifty to sixty participants, Samantha's also offers a skybox dining hall.
This expansive hall appears much larger when light filters in through the floor-to-ceiling windows that run across three of the four walls giving the room a grandiose appearance
The windows also offer stunning views of Main Street of downtown Little Rock as the sky box sits on the mezzanine level, overlooking the city.
The spacious dining hall is perfect for wedding receptions, reunions, PR events, birthday parties, and much more.
The area can seat about fifty guests and is equipped with two 65" Flatscreen TVs that also make it well suited for business meetings as well.
Address: 322 Main St, Little Rock, AR 72201
Three Fold Noodles + Dumpling Co.
If you're craving authentic and flavorful Chinese food or some delicious Western and Eastern fusion foods, there is simply no better option than Three-Fold Noodles + Dumpling Co. 
The restaurant's almost all-white, minimalistic interior mirrors its simplistic menu that offers noodles, buns, and dumplings but allows you to customize your protein choice and spice addition. 
The flavors are wholesome, and the meals are filling. 
All the ingredients used are fresh and the noodles and dumplings are handmade and not the pre-made, store-bought type.
Soul-satisfying food is what you get here!
One thing that stands out is the 99/100 health score! 
It is one of the most hygienic restaurants you'll ever visit.
They also offer delivery and takeaway if you find the place too crowded and don't want to miss some delicious pan-fried dumplings or a hot bowl of noodles.
Address: 611 South Main St Little Rock, AR 72201
Big Orange
Big Orange is a quintessential burger joint that only serves big and bold flavors.
Hinting at some retro vibes, this Little Rock burger place serves scrumptious burgers, salads, and shakes, all of which boast unique and intense flavor blends distinctive to the Big Orange Style.
Juicy and flavorful, the Gorgonzola burger with pepper jelly is hit with most people.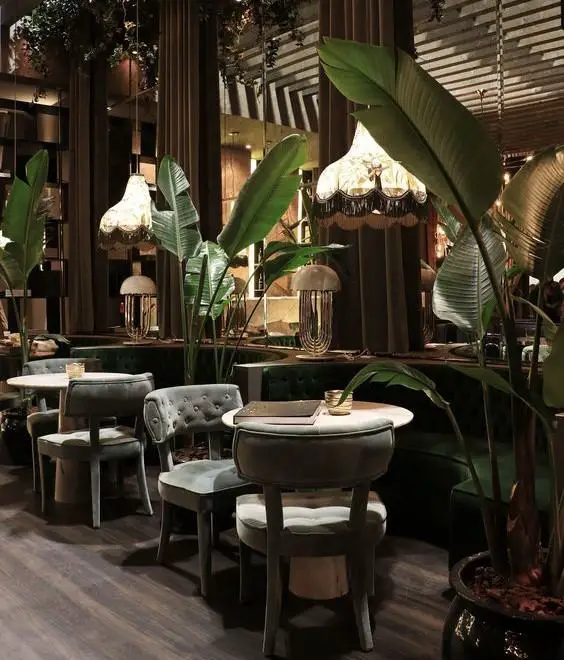 Loaded with cheese, the juicy meat patty is delightfully complimented by the smoky flavor of the pepper jelly.
Big Orange is also famous for its thick chilled shakes that boast rich flavors. 
You can also try their vegan shakes especially if you are lactose intolerant or just environmentally friendly.
Address: 207 N University Ave Ste. 100, Little Rock, AR 72205-3104
Excaliburger food truck 
The Excaliburger is a no-frills affair.
It's a food truck you can find all over Arkansas that serves one of the best variations of the classic American cheeseburger Southside of America.
You can only purchase one Menu item at a time prepared one way-the chef's way!
But there is one guarantee that it will be the juiciest, cheesiest, most delicious burger you'll ever eat.
You'll probably chase down the truck for another burger before you're even done with the first one!
Address: Southwest Corner Of 6th And Spring Street, Little Rock, AR 72201
Taj Mahal Indian Kitchen
Taj Mahal Indian Kitchen is known as the hidden gem of the Little Rock food scene. 
The restaurant is beloved among locals for its cheesy and bullet naans and of course the delectable Chicken Tikka!
The restaurant serves phenomenal dishes that are well seasoned and spicy and leave you feeling content and richer in leftovers that is if you can resist licking the plate clean!
The quiet atmosphere with pleasing, soft music and a well-decorated interior augment the whole dining experience. 
The mouthwatering food and the helpful waiting staff make sure that diners rate the experience a solid five stars!
Delicious vegan and vegetarian Indian dishes are also on the menu.
Address: 1520 Market St Little Rock, AR 72211
Big Bad Breakfast – Little Rock
Big Bad Breakfast is a great option if you're looking for a breakfast joint that serves hot and filling classic breakfast dishes with a modern twist.
The menu at Big Bad Breakfast was curated by the James Beard Award-winning chef John Currence. 
The most popular items at the restaurant are the fluffy and buttery biscuits.
Soft and decadent, the biscuits complement all the dishes offered at the restaurant.
Other specialty items include locally brewed coffee and fruit preserves, especially the peach preserve.
At the Big Bad Breakfast, they take great pride in serving a big Southern breakfast complete with heartwarming hospitality!
Address: 101 S Bowman Rd. Little Rock, AR 72211
At The Corner
This little vintage cafe should be your go-to for breakfast, brunch, or lunch meet-ups.
They have the friendliest staff, great food, and the coziest local diner vibes.
They serve all the breakfast essentials but their chicken tenders and biscuits are extra good!
Address: 201 E Markham St, Little Rock, AR 72201-1627
That's it, folks. 
Thank us later for summing up the whole food scene of Little Rock in one place, but these are the best of the best of Little Rock.
Happy dining!