Every once in a while, you want to do something fun and adventurous-you want to go out in nature and feel the wind.
If ATV riding is something you would choose to have fun with, then you are in luck!
The ATV trails in Mena Arkansas are plenty.
Let's help you pick the best trail in Mena for ATV riding.
Ouachita National Recreational Trail
This is the longest trail in Ouachita.
The trail spans 204 miles with elevations ranging from 600 to 2600 ft.
The trail passes through forested mountains, across sweeping valleys and clear-running streams.
Wolf Pen Gap
This was the first trail system built specifically for four-wheelers in the Ouachita National Forest.
What makes riding here stand out is the diversity of terrain. It has challenging terrain but also easy trails for families.
A highlight many people enjoy here is the two-footed oak tree at the east end of the trail system.
Wolf trail cabins are only a five-minute ride from the trails of the wolf pen gap trail system.
These cabins are the perfect place to relax after you get back from your ATV ride.
Black bear cabins are just a five-minute ride on your ATV to the Wolf Pen Gap, North trailhead.
They also offer parking for your truck and ATV trailer so once you get there, you'll have no worries!
Clear Sky Ridge Cabins
If you are looking for luxury and great ATV trails, you need to go here.
Cabins here have huge, beautiful windows!
Renegade Ranch ATV Trails
This 300-acre ranch is open daily and offers miles of wood trails, rolling hills, and open meadows.
This place also offers a full-service campground with direct trail access to some sites bordering the Ouachita River.
Cabin rentals are also offered and both daily and weekly rates are available.
It also offers pond and river fishing.
Bear Creek ATV Trail
This trail comprises four loops with 45 miles in all.
Trail markings are yellow rectangles and signs.
Along this trail, visitors will enjoy a variety of views, including scenic sights and fascinating rock formations.
The most challenging segment to access out of all the different sections is at Daisy Park.
Huckleberry Mountain Trail
The 34-mile Huckleberry Mountain Trail runs around Arkansas's tallest mountain and is open to hikers, mountain bikers, ATV riders, and horseback riders.
Interesting to know that this trail was originally designed for horseback riding only!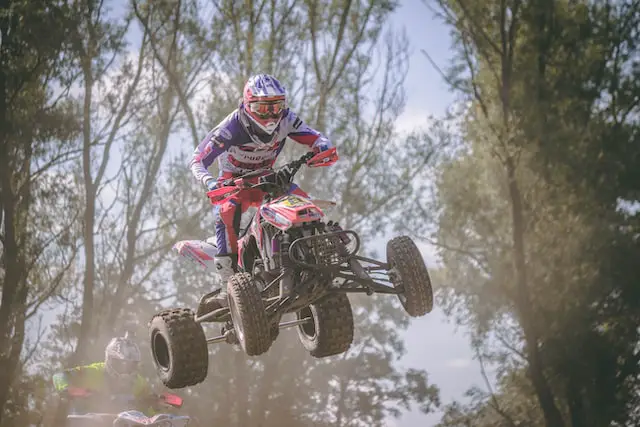 Three creek-crossing loops connect Mount Magazine and Huckleberry Mountain.
Camping is allowed on Mount Magazine trails within the Ozark National Forest.
Shadow Mountain RV Park
Abundant open space awaits you here. A great location for a family reunion or club function.
Two miles of trail are available in the park for hiking, mountain biking, horseback riding, and ATV.
Fourche Mountain ATV Trail
This trail system runs through the Ouachita National Forest.
This 26-mile multiple-use trail system is open to ATVs, dirt bikes, and non-motorized use.
The trail system is open the whole year but the best time to visit is during the spring, summer, and fall months.
Beautiful forest scenery, scenic mountain views, and many streams can be found here.
The trail is ranked as easy to moderate but there is a rocky section on trail number nine.
Overall, this is a good place to take a beginner.
Sugar Creek Lodging
Don't have an ATV? No problem, Sugar creek lodging is your place to be!
If you don't own an ATV or you just don't feel like riding yours down there, you can rent one of theirs.
They have beautiful cabins on the banks of the Cossatot River.
Sugar creek lodging has the perfect combination of top-rated ATV trails and easily affordable rental rates that last all day.
Kiamichi Ridge Trail (K-Trail)
Explore this 6.6 km out and back trail near Big Cedar, Oklahoma.
It is considered a bit of a challenging route because there's no gas, water, or food available on the route.
The K-Trail offers several types of terrain for riders.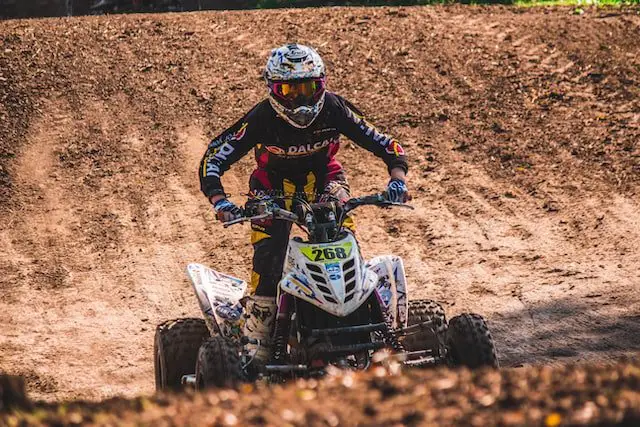 There are rough mountain passes, sloping trails, winding forest paths, and open fields.
The ATV trail is located just over a mile from the gate.
This trail welcomes your pet dogs too but they must be on a leash.
ATV Trail Safety: Knowing The Rules
Riding an ATV is a serious sport that you should tackle slowly with excellent knowledge of the rules.
Make sure you enjoy your ride and stay safe by following these ATV safety rules: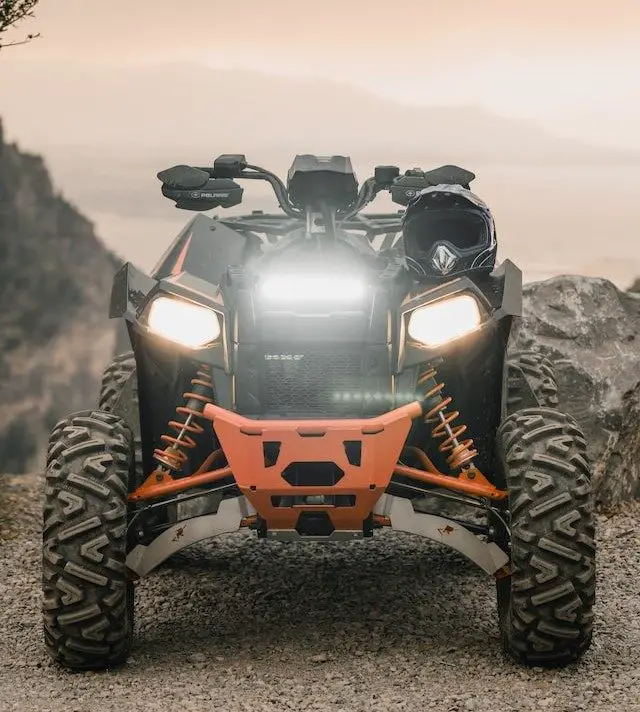 Always wear safety gear. This includes an ATV helmet.
Also, wear:
Eye protection
Footwear with shin or ankle protection
A long-sleeved shirt or riding jacket
Long pants
Gloves with padding
Never ride alone, but if you are riding in a group, follow certain rules:
Leave space
Be mindful of those ahead and behind
Communicate and move
Don't stop on a curve or in the middle of the trail.
Take blind turns and hills carefully. Slow your speed and be alert.
Don't ride beyond your capabilities.
Don't ride on an ATV that isn't right for your age, weight, and skills.
The above trails are among the best places to ride your ATV in Mena Arkansas.
So what are you waiting for?
Choose your favorite one and experience that adrenaline rush coursing through your veins!