Arkansas is known for having great campsites, but Northwest Arkansas is exceptionally beautiful with several amazing campgrounds that have spacious campsites, adventurous hiking trails, and lakes where you can enjoy water sports.
There are some favorites among the many great campgrounds in Northwest Arkansas, where you can carry an RV or your tent, and enjoy your time to the fullest.
Withrow Springs in Huntsville
Withrow Springs is a great campground in Huntsville, Arkansas and a favorite for many to spend their weekend at.
There are 29 class AAA and 10 walk-in campsites besides three hiking trails.
You will find many natural wonders here, like the unique flower, Ozark trillium, which is very rare, is grown here.
You can enjoy outdoor activities like softball and baseball in the fields available, enjoy a picnic in the picnic area or have fun in the pavilion.
There is a tennis court where you can enjoy the sport, and a gift shop to get some souvenirs.
Withrow Springs State Park Address:
33424 Spur 23
Huntsville, AR 72740
King's River Falls Camping
Just a minute away from the Kings River Falls Trail head, is the Kings River Falls Camping site which is nestled along Kings River's headwaters in Venus Arkansas.
This campground is rugged and remote, with bluffs, caves and swimming holes.
It is loved by many primarily because it is so close to the Kings River Falls Trailhead.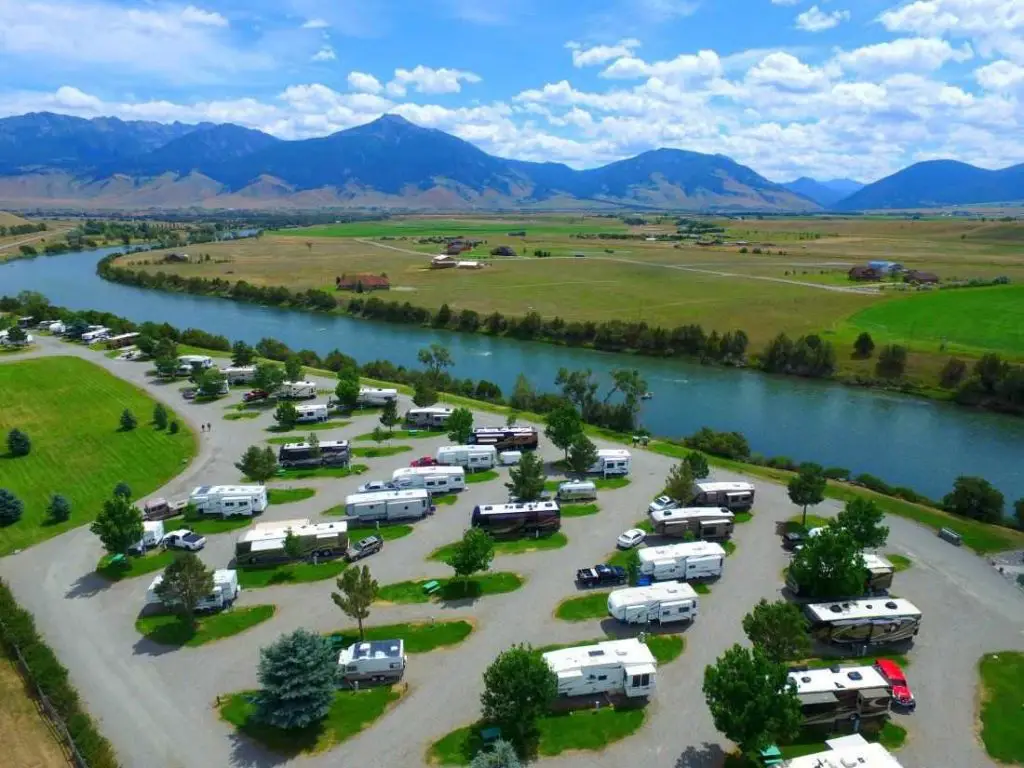 There are long miles of trails to explore in the area, and people come back repeatedly because it is unforgettable and the camp hosts are pretty spectacular.
The area around the camp is quite primitive than a regular state park campground, with toilets and picnic tables available for the visitors. However, no water or showers are present as of now.
Kings River Falls Camping at Red Fern Campground Address:
Madison 3500
Witter, AR
White Rock Mountain Recreation Area, near Mulberry
This one is a forest service campground in the Ozark Mountains in the Northern Arkansas.
Its location makes it exceptionally beautiful and enjoyable to camp at, right by the mountain side.
There are nine primitive campsites, with no hookups present in the camp area open all year round for visitors.
Of these campsites, two can easily accommodate pop-up campers and small RVs, while the remaining campsites are tent only ones.
You will find vault toilet and drinking water here, besides a general store that provides snacks, cold drinks, ice cream, firewood and a lot of information.
The White Rock Mountain is located 2260 feet above the sea level, right at the heart of Arkansas Ozark National Forest.
Its name comes from the appearance of its lichens on sheer bluffs, that seem to appear white from afar.
The entire area is surrounded by high bluffs, and White Rock Mountain is the hub of multiple trail systems.
White Rock Mountain Recreation Area Address:
Latitude: 35.6909333
Longitude: -93.9568667
Lost Bridge South Campground on Beaver Lake
Arkansans love the Lost Bridge South among the campgrounds in northwest Arkansas, given its beautiful lakeside camping locality.
You will find plenty of shade at this campground to roam around and have fun.
It is located right by the vast Beaver Lake shores amidst Ozark Mountains in Northwest Arkansas, offering sunny, spacious campsites providing opportunity to enjoy plenty of recreational activities.
It is 42 minutes away from the Eureka Springs by drive. You can find it on: 
Latitude: 36° 23′ 49.6900″ N
Longitude: 93° 54′ 14.8000″ W
Being just a short distance away from the campground, Eureka Springs is also a must visit spot when you go camping to the Lost Bridge South Campground, and check out the amazing things you have to do there.
Prairie Creek near Rogers, Arkansas
In the Ozark Mountains of Northwest Arkansas, right along the outspread shores of Beaver Lake, sits the Prairie Creek Campground.
There are many facilities available in this campground, that you can use to enjoy several recreational activities.
There are multiple picnic areas, fire rings, water and flush toilets.
The Beaver Lake is also a hot spot for many water sports during summer, making it even better for you as you will get a five-lane boat ramp in the Prairie Creek as well.
Prairie Creek Campground Address:
Latitude: 36° 21′ 16.9999″ N
Longitude: 94° 3′ 2.0002″ W
Horseshoe Bend Campground near Rogers, Arkansas
This campground is also on the Beaver Lake, on a peninsula extending out in the water and giving beautiful views.
There are plentiful fishing opportunities near this campground.
Water on the Beaver Lake extends for over 28,000 acres and campers can also try their luck with catching white brass, bream, small and largemouth bass, crappie, stripers, spoon bill catfish and channel.
There are chilly waters of the upper White River, just below the dam that provide a perfect habitat for record size German brown trout and pole bending rainbow.
There are many trails in the Ozark Mountains, where you can peacefully bike or hike and enjoy beautiful views of the wildlife.
Horseshoe Bend Park Address:
Latitude: 36° 17′ 12.0001″ N
Longitude: 94° 1′ 9.9998″ W
Beaver Lake Dam Site
The Beaver Lake Dam Site campground is known for its hiking trails, fishing, swimming, scuba diving, water sports, and sightseeing.
There are many spacious campsites, and a variety of recreational activities that you can enjoy here.
Water sports is one of the top favorite activities for campers to do here.
Beaver Lake Dam Site Campground Address:
Latitude: 36° 25′ 13.0699″ N
Longitude: 93° 51′ 19.4602″ W
Beaver RV Park and Campground on Tablerock Lake
The Beaver town in Arkansas is a relatively small town, having around 0.5 square miles and 0.2 square miles of total area, comprising water only.
It is also scarcely populated, with just about 150 people living here.
The Beaver RV Park is a favorite campground for many in the northwest Arkansas.
Residents of the town enjoy camping here and is the perfect getaway for them to enjoy nature and have fun doing activities with their family and friends.
There are 31 RV pads and 9 tent sites in the Beaver RV Park.
It is a mini paradise for nature lovers, as you will find trees that are as old as 100 years old!
It is located right by the westernmost tip of the Tablerock Lake bank.
Campers visiting the park particularly enjoy fishing and grilling, swimming and boating in the lake.
When visiting the Beaver Park, be mindful of the regulations regarding vehicle weight, that can be easily found on relevant sites.
Beaver RV Park Address:

If you are using a GPS, you can just enter Beaver, Arkansas as the destination – the town in so small that you will easily find your way to the park campground.
Bull Shoals-White River State Park
The White River State Park in Bull Shoals is not just one of the best camping grounds in northwest Arkansas, but also provides one of the best spots to fish trout in Arkansas.
It is famous for its one of its kind trout fishing in the world.
The White River State Park is by the shores of both White River and Bull Shoals Lake.
As you venture down to the park by the White River, you will find at least 113 campsites, of which 63 are AAA class, 30 are class B, and 20 sites do not have any hookups.
In addition, there are three rent-an-RV sites as well.
During your visit, you must visit the visitor center which is as large as 15,744 square foot.
It is an exquisite exhibit center and theater, where you will also hear a lot of fishing stories.
Bull Shoals – River State Park Address:
153 Dam Overlook Lane
Bull Shoals, AR 72619
870-445-3629
Buffalo Point
Buffalo Point is among the best hike in camp areas you will find in Arkansas.
This campground is along the Buffalo National River and is a beautiful drive from Eureka Springs and onwards.
It is the only campground present in the area having electricity and water hookups.
There is a restaurant as well, that is open during the peak season serving delicious meals to campers visiting the park.
It is just a 2 hour drive from Eureka Springs, and one hour drive away from Buffalo Point is the Blanchard Springs Cavern.
Buffalo Point Campground Address:
Latitude: 36° 4′ 23.0002″ N
Longitude: 92° 33′ 24.9998″
Devil's Den State Park
If you are a first time camper, the Devil's Den State Park is one of the best campgrounds for you and will remain among your favorites for years to come.
If you also like activities like swimming, hiking, canoeing, exploring caverns, resting in a zero gravity chair by the campfire, you can enjoy these at the Devil's Den. 
The park has some unique characteristics as well, including the caverns and rock formations.
There is an impressive rock dam that spans the Lee Creek, forming the Lake Devil.
It is a good 8-acre lake for boating and fishing with pedal boats and canoes available for rent.
Backpacking, horseback riding, hiking, mountain bike is some activities that can be enjoyed on the trails leading to the Ozark National Forest.
There are 135 campsites and 17 cabins at Devil's Den.
You can join park interpreters on hikes by the trails including the 150mile Butterfield hiking trail.
Devil's Den State Park Address:
11333 West Arkansas Hwy. 74
West Fork, AR 72774
479-761-3325