Christmas is a little too sparkly, said no one ever!
One of the most amazing experiences you can have with your family or friends is driving through a magical light display in Arkansas!
Towns throughout Arkansas light up every year which is always more beautiful than the previous year.
You can enjoy these beautiful displays while driving with your family or friends.
Let's find out what amazing light shows await you this holiday season!
1) Lights of the delta – Blytheville
The largest holiday light display in the Mid-South.
Wondering how large it is? The magnificent 40-acre display includes over six million lights and 48 illuminated motion displays to brighten up your winter evenings.
The park has quite a few activities besides the light show, including photos with Santa.
Admission to the show is ten dollars per vehicle.
2) White river wonderland – Batesville
Over a million lights are used to create hundreds of displays throughout the wonderland.
There's no charge to enjoy a drive around the park.
Here you can also enjoy other fun activities like ice skating, Ferris wheel, train tours, and carriage rides!
The lights are up at all four of Batesville's parks but the other things are in the riverside park.
3) Lights of the Ozarks – Fayetteville
Enjoy the amazing winter wonderland of lights at Downtown Fayetteville Square.
Since 1994, Lights of Ozarks turn Downtown Fayetteville into a sparkling wonderland.
The square is lit by over 400,000 lights and has all kinds of stuff to do.
Winter treats, hot cocoa and festive music make the lights of the Ozarks an event that can not be missed.
Special days for parades and choirs are held.
Kids can also ride the ponies, write letters to Santa, and even meet the jolly old fella!
4) Enchanted forest trail of lights – Sherwood
This light trail has over a mile of twinkling holiday scenes.
The trail of lights opens on Friday before thanksgiving and closes on the 30th of December.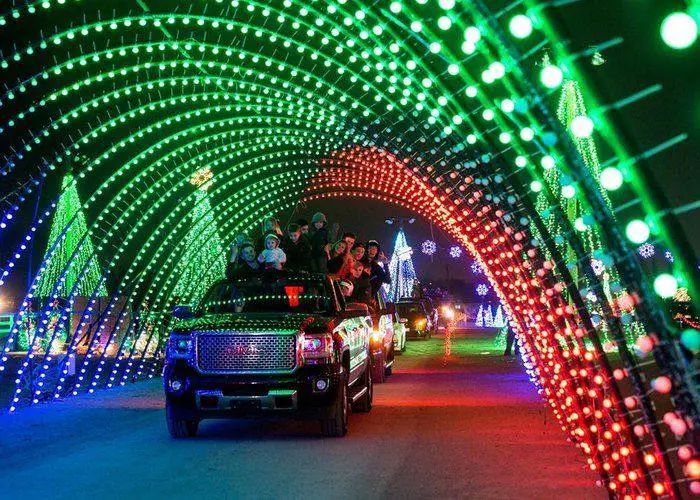 You can spot over 92 brightly lit displays.
They welcome donations and don't forget to pick up your complimentary candy!
You can drive through from 6:30 to 9:30 p.m.
They do not charge any admission fee but accept donations.
5) Fantasy in lights-Jacksonville
The entire town of Jacksonville lights up for the holidays.
You can enjoy the classic drive-through experience, now featuring an enchanting tunnel of lights!
Journey through the seven-mile fantasy in light Enchanted Forest, where you can enjoy the beautiful festive music too.
The town has tons of other festivities throughout the month that you would not want to miss.
6) Lights on linker mountain in Dover
Light on Linker is a unique musical light display.
The amazing display was created by Brooke Brewer.
The show is free for everyone to enjoy, it's like a gift of Christmas by the creator of this amazing light display.
7) Enchanted land of lights and legends- Pine Bluff
Pine bluff gives a breathtaking tribute to the Christmas season.
The Enchanted land of lights and legends is a mile-and-a-half drive-through show which makes it the state's largest light display.
You'll be amazed by over 240 displays and many of them are animated.
Driving through the course will fill you with warm beautiful memories.
There's even a picture station so you can capture your visit in a picture.
The trail is free but you can make donations.
8) Hodo family light show – Van Buren
This light show might not be a mile-long trail but you will get mesmerized when you see this family's decorations.
The Hodos fully cover their yard and house in a stunning multi-scene display.
Every time you drive by you'll spot something new.
Kids can leave their letters to Santa here.
The drive-by is free, though donations can be made.
Christmas light display in the city of Van Buren
The Christmas lights display at Hodo's house ended in 2019.
Mr. Hodo donated his lights to the city of Van Buren so that the tradition of light display continues.
The lights now can be seen at Freedom Park Downtown and at City Park where you can drive through.
At the City Park drive-through display you can enter from 20th street.
9) Holiday trail of lights in Greenwood
Christmas is incomplete without lights and a chunk of decoration across the city.
Here in Greenwood, through the street markets or a running tour, you get to witness the best of the decoration and light displays.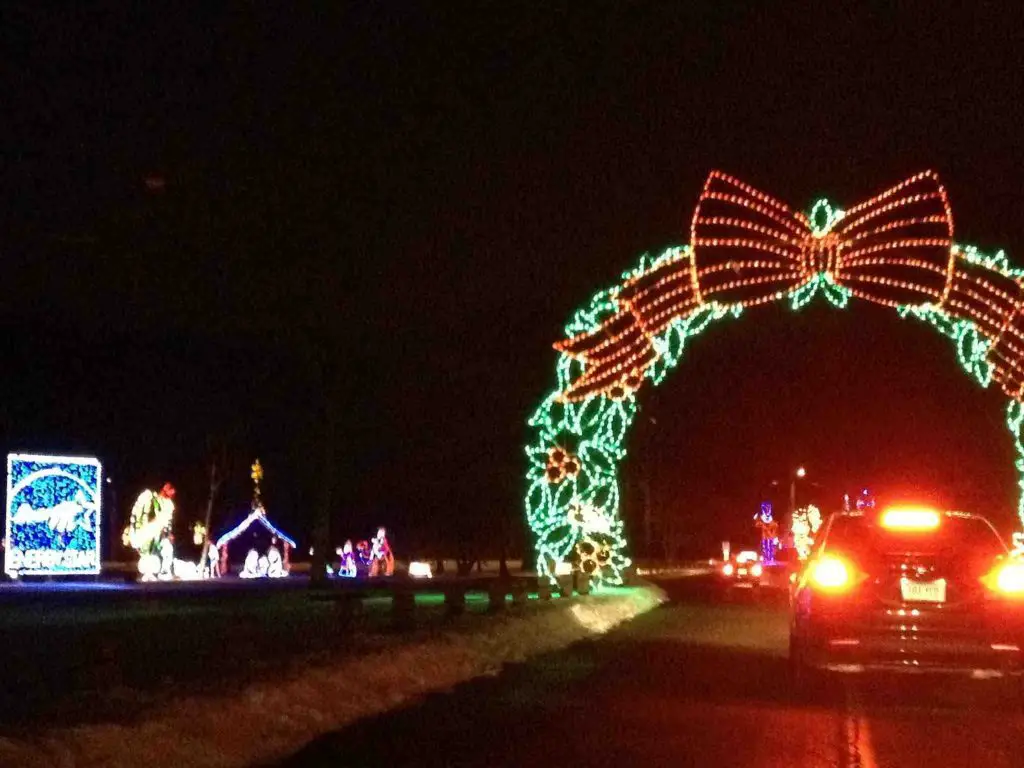 Besides the light display, you can also enjoy their Christmas parade.
This is more than just a typical Christmas parade that honors their tradition.
Santa makes his arrival on the fire truck after this parade and is always ready to visit with the children.
10) Holiday light extravaganza in Smackover
The Arkansas Museum of Natural Resources State Park in Smackover displays a holiday light extravaganza each Friday and Saturday through December 21.
You can walk through the museum to enjoy all the twinkling lights, the sounds of the holiday music, and beautiful sights and scenes.
You can also view all the lighted scenes including an ice castle with falling snow and a gingerbread village.
Enjoy Santa's rock band and don't forget to get your complimentary hot cocoa.
11) Steward family Christmas light display in Fayetteville
A Christmas tradition that went dark has returned in 2020.
The Stewart family started with just a few lights and inflatables but now they include hundreds of inflatables and almost 2 million lights recently.
There are train rides, pony and camel rides, food vendors, and other activities too.
Usually, old Santa Claus comes and appears on the grounds.
The Stewart family's display wasn't lit up in 2019 because of continued expense but the display returned in 2020 which was better than ever!
12) Bentonville heart lites
Bentonville Heart Lights is a labor of love from the Valentine family to the residents of Northwest Arkansas.
The Valentine family- Mark, his wife Crystal, and their children work on the display the whole year to prepare for the holiday.
They come up with a better display of lights each year.
Here they light up almost fifty thousand animated musical Christmas lights.
All the Christmas lights are computer controlled and synced with holiday music.
It's interesting to know how each bulb can be separately controlled to produce millions of different colors, letting them make amazing patterns!
13) Simmons Christmas light show in west Memphis
This light display is in the city of West Memphis.
They run a beautifully synced LED light show powered by light controllers.
They also display many blow molds and inflatables and create beautiful scenes for their audience.
14) Christmas at the Park
Christmas at the Park is one of Arkansas's brightest and most breathtaking drive-through light displays.
You can see thousands of lights, beautiful decorative pieces, and one of the longest light tunnels.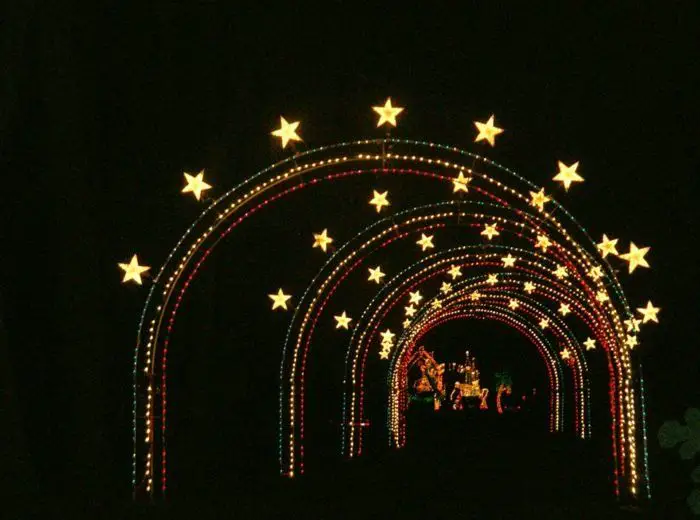 You can also enjoy a lot of fun activities like taking pictures and meeting the star of Christmas-Santa!
The trail extends half a mile featuring almost 450 pieces of decoration and over 400,000 lights.
The tunnel of lights is believed to be the longest drive-through lighted tunnel in the U.S.
You can also take part in the fun games and take pictures and play with Santa.
Christmas at the Park also includes breathtaking fireworks!
15) Creekmore Park
This place offers you to ride the rail to a magical Christmas village on Creekmore express.
Creekmore park is one of Fort Smith's best assets.
It has a pool, tennis center, mini golf course, and a train, the Creekmore Express.
The park is lit up with thousands of magical Christmas animated lights and festive scenes.
The Creekmore express takes you on a beautiful journey through the decorations in the park.
The fun and festive train rides are everyone's favorite.
Riding on the train is free which runs from November 29th through December 18th.
Train rides are offered from Monday till Saturday.
You surely don't want to miss this adventurous ride!
16) Saline County trail
This trail is in Benton and is a part of the Arkansas trail of holiday lights.
The lights turn on from November through the end of December and during this time an annual Christmas parade happens as well.
You'll find thousands of magical lights all over the block.
17) Bethlehem road in Lonoke
In Lonoke county, the Christmas road to Bethlehem's annual holiday display is open through New Year's Day.
It features thirty hand-painted scenes and scriptures along the roadside telling the study of Christ's birth.
The Christmas light displays are lighted at night but are also fun for daytime drives.
You can bring your friends, relatives, large groups, or senior citizen groups to enjoy the Christmas road.
Arkansas lights up more beautifully every year than the last one so if you want to enjoy your best Christmas holidays you must visit one of these places for sure!