If you are ever looking for a place in Arkansas that is the perfect mix of majestic views and scenic trails and is home to history and serenity-Petit Jean State Park is your answer!
A perfect amalgamation of entrancing natural beauty, challenging hikes, serene waterfronts, countless opportunities for fishing, camping, and a convenient gift shop to buy a souvenir to remember the trip for a lifetime.
Petit Jean State Park has it all.
How do you get to the Park?
The Petit Jean State park is in Morrilton, Conway County, Arkansas
Depending on where you're coming from, getting on highway 154 will get you straight to the Park.
Although using your GPS to help navigate will be your safest bet.
Address:
1285 Petit Jean Mountain Road
Morrilton, AR 72110
History
Legend states that there was a fair maiden from the land of the French that wished to travel to and explore the Louisiana Territory with her betrothed.
As was common in those times, her fiance declined as he feared for her safety.
The lady was not discouraged; she chopped off all her hair and joined the ship's crew disguised as a boy!
The crew called her "Petit Jean", literally, French for a little boy.
So the ship sailed and the Petit Jean completed the voyage to Arkansas.
However, she fell fatally sick upon arrival, and eventually passed away after revealing her true identity.
She was then buried on the mountain under the name she was called by the cabin crew.
And that is the legend of Petit Jean and the mountain that is her namesake.
Location
Petit Jean State Park is in between the Ouachita Mountains and Ozark Plateaus.
The park sits upon the renowned Petit Jean Mountain facing the Arkansas River providing sweeping views of the Arkansas River Valley.
Built atop one of the three mountains that make up the Arkansas River Valley Tri-peaks, the Petit Jean State Park hosts over 800,000 visitors each year.
Tourists from all over the country travel to the park to witness the stunning view of the luscious greenery, the imposing mountains, and the serene waters of Lake Bailey.
Petit Jean state park is a haven for nature lovers.
Construction
Inspired by the majestic geology of the mountain, the Civilian Conservation Corps (CCC) began constructing the park in 1933.
The stone and log construction dispersed throughout the park reflects the rugged and rustic feel of the mountain.
In 1935, the CCC erected the historic Mather Lodge, a 24-room stone building overlooking the forested Cedar Creek Canyon created by a grand waterfall that falls about 95 feet into the canyon.
In 1960, a restaurant wing was added to the lodge to add a culinary experience for the ever-increasing volume of visitors.
The work crews of the CCC established the Cedar Creek bridge, four T-shaped cabins that also flaunted stone patios, several roads including The Blue Hole Road and the Red Bluff Drive, and the main hiking trails such as Cedar Falls Trail.
They also built a box culvert, and the now abandoned water treatment building which was crucial for the provision of filtered water supply in the early years of the park.
Today, the 3,471-acre park is effectively managed by the Arkansas Department of Parks and Tourism.
Other Facilities
Over the years, extensions have been added to the Lodge including a gift shop and a Visitors' Center. 
More cabins have also been built near the Lodge, presently counting up to 33 with 21 furnished with kitchens.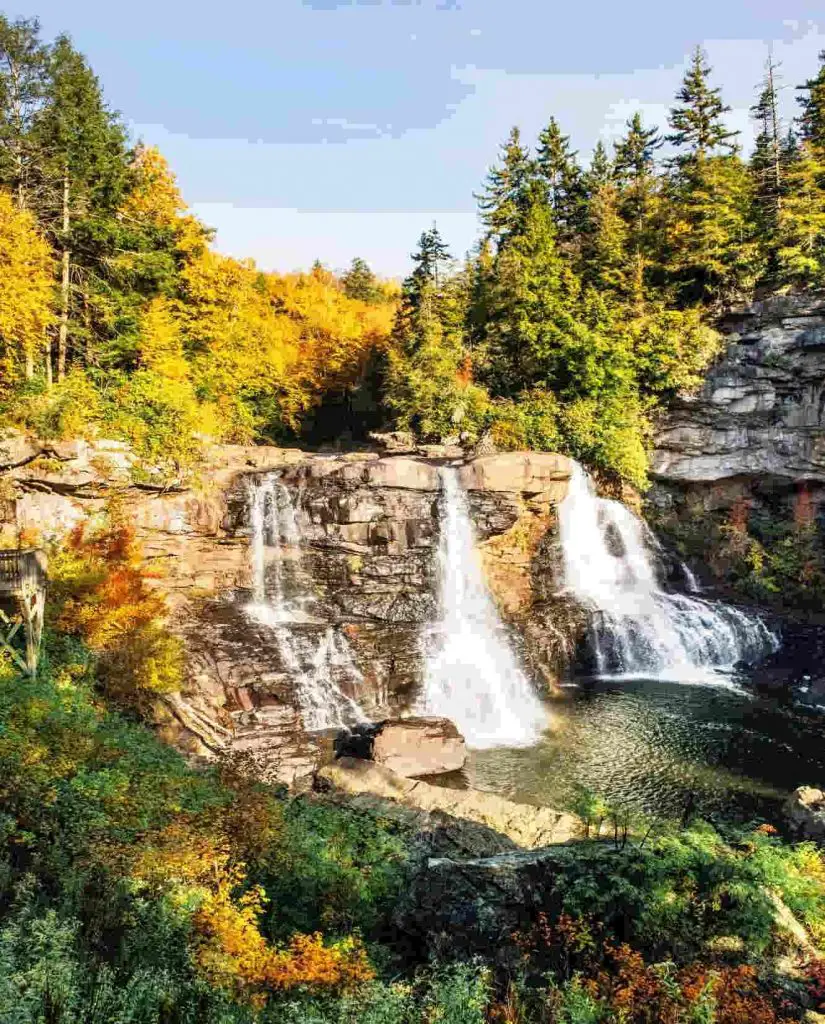 Upstream, Cedar Creek has been dammed to create Lake Bailey.
A snack bar, boathouse, and 125 campsites are also set up close to the Lake.
Tennis and basketball courts, a swimming pool, and picnic areas are also available.
What can I do at the Park?
The Petit Jean State Park can be a place you visit to enjoy nature leisurely or partake in the variety of activities offered here.
Hiking Trails
Nearly 20 miles of Arkansas Trails cross through the Petite Jean State Park.
You can find multiple trails varying in intensity. There is also an array of paved and unpaved trails.
So you can find a challenge or just a relaxing hike, as desired.
Cedar Falls Trail
The star of the Petit Jean State Park is Cedar Falls. Cascading down an impressive 95 feet, with adequate rainfall, the waterfall is a sight to behold!
The Cedar Fall Trail is rated Moderate in difficulty.
It begins in a forested area near Mather Lodge.
You will experience some elevation in the first half mile of the trail until you get to the Cedar Creek bridge.
After crossing the bridge you continue another half a mile before you ultimately reach your destination, the base of the Falls surrounded by some rocky formations.
Undoubtedly this is the place with the best views
Cedar Creek Trail
Constructed by the CCC in 1935, this Trail covers about 1.25 miles and winds through the area around Cedar Creek above the falls.
If you want to see wildlife, rock face, bluffs, and streams you will enjoy exploring this trail.
Because of some rocky elevation, this hike is slightly more strenuous but is very rewarding for the challenge it presents.
Seven Hollows Trail
The Seven Hollows Trail is longer but rated moderate in intensity.
It is a five-mile circuit with some rocky areas you might have to scramble over so good hiking boots are a must!
It begins in a wooded area, and as you continue, you will face an elevation of 600 feet.
Here you will be greeted by rocky formations and cave fronts on both sides.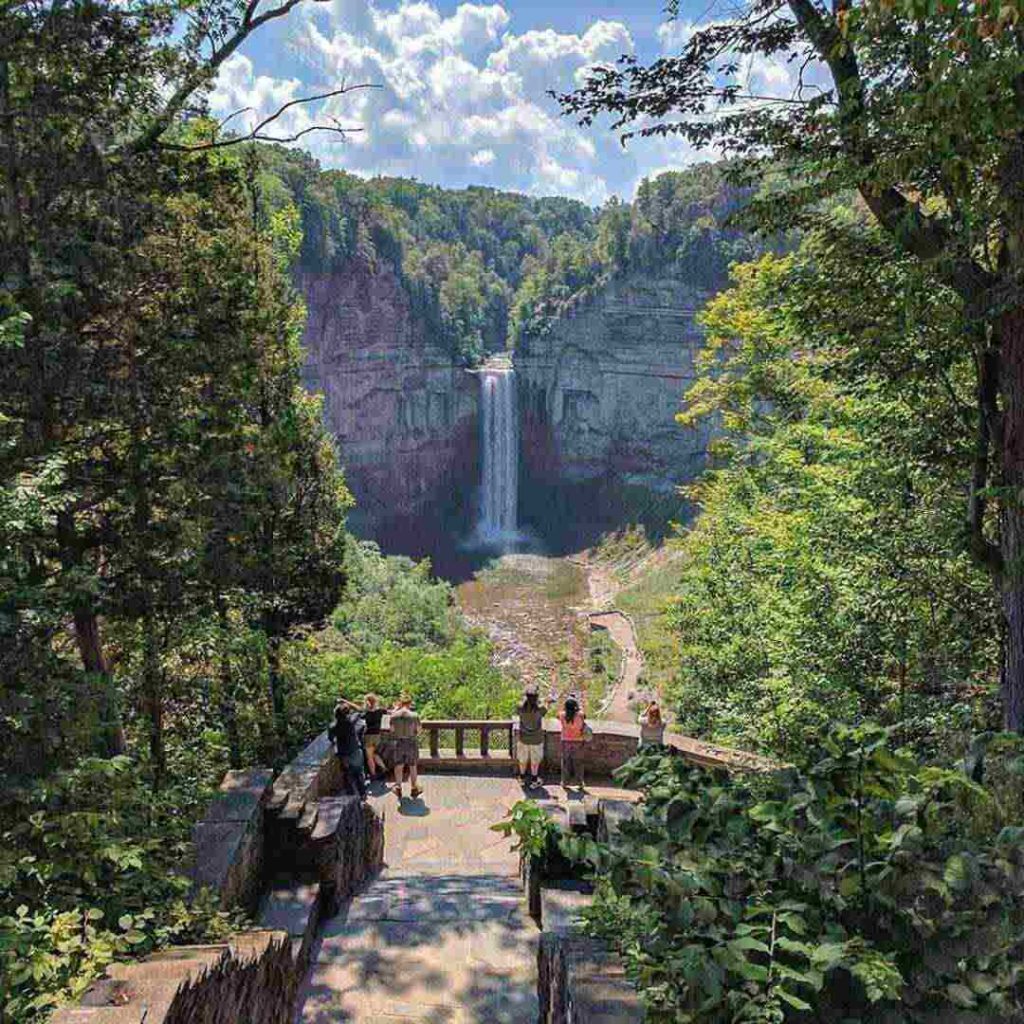 After hiking for a little over a mile you will arrive at a natural rock arch. Here, you can stand beneath the shade and rest or take cool photos!
Next, you'll climb over rock bluffs and reach the grotto.
From here, you will see a shaded groove with a small waterfall and a pool of water.
This is the perfect place to stop for lunch!
Bear's Cave Trail
The Bear Cave is not a true cave, they are a massive sandstone boulder that is hollowed out so that you walk through them.
The rock formations have a maze of passages you can explore.
A half-mile hike from Mather Lodge will take you to Bear Cave.
A quarter mile of intersecting trails encompass the Bear Cave area but there is no single defined trail that leads you to Bear Cave.
Rock House Trail
Rock House is also not an actual cave but huge sandstone and rocky boulders that have caved in.
At the entrance of these cave fronts, you'll find curved and dented rock formations that resemble turtle shells.
They are thus called Turtle Rocks.
Although, Rock House Caves preserve an ancient historic treasure.
The art of Native Americans carved into the walls of the cave dates back five hundred years!
These caves were originally used by Native Americans as shelters when they passed through this area and were forced to move to Oklahoma.
This is a very short hike about a quarter mile.
Other Trails include:
Canyon Trail: 1-mile long hike along the Cedar creek
Boy Scout Trail: a large 12-mile hike circling the park.
Cedar Creek Trail: 1.25 miles of moderate-level hiking.
CCC Hike and Bike Trail: 1.75 miles of paved paths for biking with access to Cedar Falls Overlook, Cedar Creek trail house, and Highway 154.
Other Recreational Activities:
Visitors Centre
 A trip to the Visitors Center is absolutely necessary!
There is always a fire crackling in the fireplace in the lobby, a warm welcome as you enter.
There is also a museum area and a gift shop.
You can also ask the ranger there, all your questions regarding the State Park.
Picnics
Some of the best picnic spots in Arkansas can be found in Petit Jean State Park.
You can sit at one of the picnic tables overlooking the Lake or Playground and peacefully relax for the evening.
The picnic areas are also furnished with tables, grills, water, and restrooms.
Playgrounds
There are also two playgrounds at the State Park.
One, near Mather Lodge and the other near the picnic area.
Other amenities
A Tennis Court and a Basketball Court are also present.
You can also rent a boat and gear for fishing, kayaking at the Lake
Special Events
If you check the website and plan your trip, you can take part in several special events hosted by the State Park to learn more about the park.
Lookout Points
Stout's Point
The most renowned of all is Stout Point where the fabled Petit Jean's gravesite can be visited.
On the East edge of the mountain, Stout's point is an elevated walkway with railings and informative signs that exhibit breathtaking views of the Arkansas River, Lock and Dam #9, Blue Point, and Ada Valley.
The Mary Ann Richter Overlook on Red Bluff Drive
This overlook faces the 1,350-foot Mount Nebo and distant Mount Magazine, Arkansas's prime point at 2,753 feet.
Grand views of the Dardanelle Rock, Carden Bottoms, and Holla Bend National Wildlife Refuge can also be observed here.
The CCC Overlook down Red Bluff Drive
Built over a rocky cliff, this spacious Native overlook provides the sweeping vistas of the Canyon and the Petit Jean River.
The Palisades Overlook on Ark. 154
The Palisades Overlooks is near the Bear Cave and Seven Hollows Trail.
The Cedar Creek Canyon is visible from here or you can go across it to the CCC Overlook.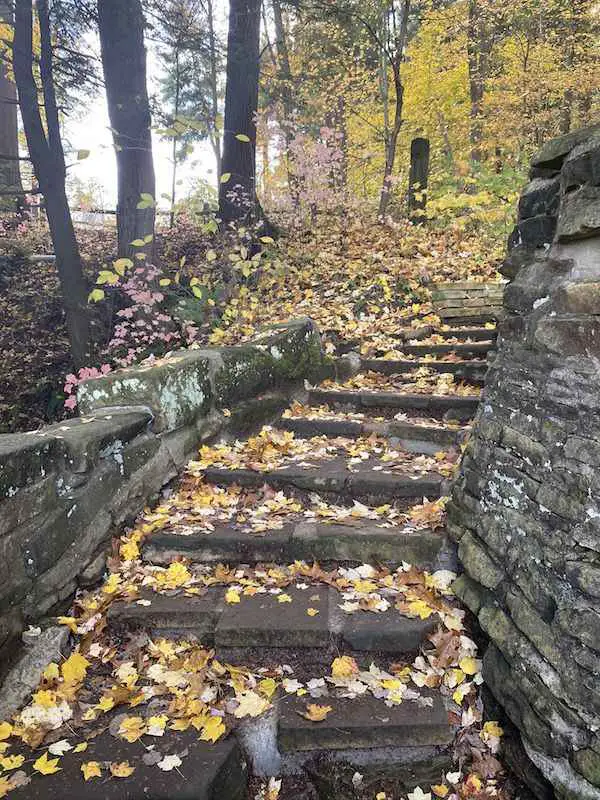 It is a great place to capture snapshots of burnished skies over the Arkansas Valley at sunset!
Cedar Falls Overlook
It is a vantage point above Cedar Falls, one of the most popular waterfalls in Arkansas.
You can drive to the overlook and park close by or you could hike the half mile from Mather Lodge by following the Boy Scout Trail.
Along the way, you'll also find informative exhibits about the park.
Accommodation
Lodge
The rustic Mather Lodge has twenty-four guest rooms to accommodate visitors.
The lodge also has a spacious dining room featuring spectacular views of the Cedar Creek Canyon highlighted by the dining room's large windows.
The Lodge is also swimming built on the bluff behind the Lodge, restricted for the use of lodge and cabin guests only.
Another pool for public use can be found near the picnic areas.
However, the swimming pools are only accessible during summer.
Camping
The Petit Jean State Park offers a wide selection of 125 campsites.
There are thirty-five Class AAA sites that have 50 amp electrical, water, and sewer hookups.
The 90 Class B sites offer 30 amp electrical and water hookups.
Campsites are sectioned into four areas.
Every campsite has a modern bathhouse and flushable toilets.
Area "A" includes lakeshore campsites near Lake Bailey.
Areas "B," "C," and "D" are set in a wooded area, on the south side of Ark. 154.
A 44-unit Rally-style Area equipped with a 20 amp electrical service is another option for camping clubs.
A trailer dump station is centrally near the Rally-style camping area.
Reservable campsites are also available West of the main campgrounds near Lake Roosevelt, the Park's smaller Lake.
These campsites are accompanied by a bathhouse.
If you don't own any camping equipment but want to experience camping, no worries!
The State Park rents out Yurts, all year.
The rental includes cots, a lantern, a stove, and an ice chest.
Each YURT accommodates up to six persons.
Cabins
If you are looking to live in cozy quarters to rest in while spending a few days at Petit Jane State Park, a cabin is a natural choice.
All cabins are located close to Mather Lodge and all the popular Hiking Trails.
There are 33 cabins to choose from with 21 having kitchens.
Ten of the rustic-style cabins originally built by the CCC are individual cabins that are fitted with kitchens.
One cabin is even furnished with a hot tub!
So if you make your reservations well ahead of time you will be able to snag that one.
Five duplex design cabins are also present.
Furthermore, these twenty cabins come furnished with all-electric kitchens, cooking utensils, tableware, bed and bath linens, and wood-burning fireplaces.
Pet-Friendly cabins are also available albeit records of shots and an additional fee is required.
If you plan to only stay for one night as part of a longer road trip you can rent one of the six overnight cabins that come fitted with mini-fridges, microwave ovens, and a fireplace.
What is the best time to go to Petit Jean State Park?
That varies according to what activity you're interested in.
Spring, lasting from late March to April, is the time to see the waterfall and lakes in full volume.
If hiking is the main purpose of the visit, then Summer will provide fuller and longer-lasting sunlight for your hike through the canyon.
However, the sight of the fall foliage is incomparable.
Is Petite Jean State Park safe to visit?
It is perfectly safe to visit and has plenty of facilities such as the playground, pools, and picnic areas to keep children entertained as well.
The State Park is also pet friendly.
As for wildlife, some black bears are inhabiting the forests but they keep away from people. The Lake is also safe for swimming.
You also have cell service throughout most of the park and campground except the trails so you can always call the administration for help or directions as needed.
But most trails are well marked so you should be able to make your way through easily.
Last, be sure to pack lots of sunscreens and good quality hiking boots but most of all have loads of fun.
Happy Traveling!