Are you looking for a countryside retreat where you can immerse in nature and rejuvenate yourself?
Hot springs in Arkansas are the best town you can head to enjoy the most mesmerizing views and raw nature.
Hot Springs is at the foot of the Ouachita Mountains and is blessed with several natural hot springs that add up to the charm of the area.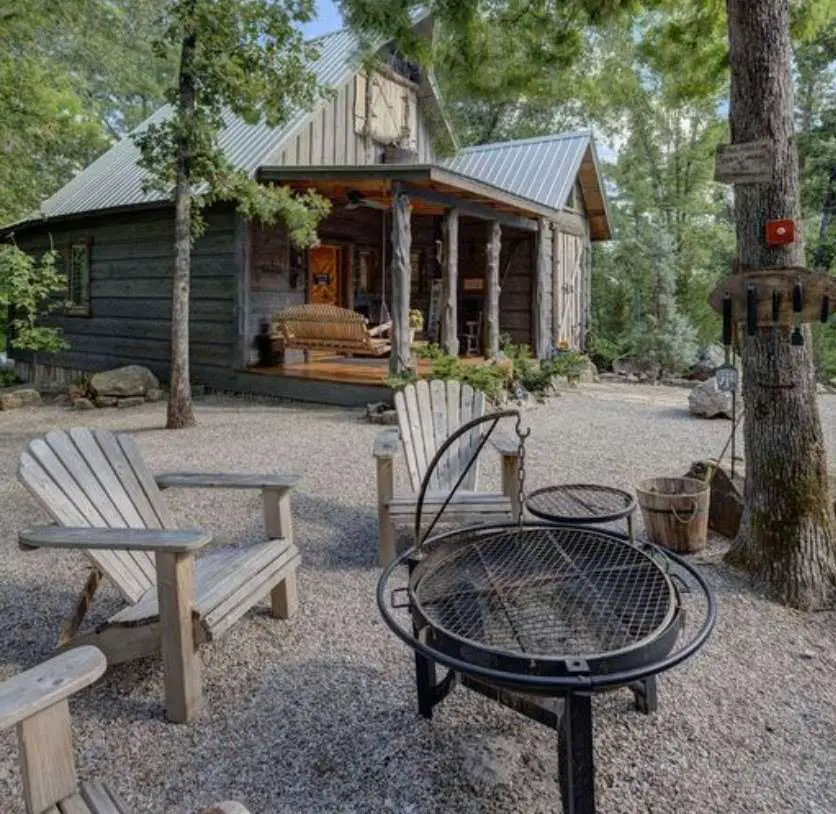 There are many interesting and adventurous things that can be done in Hot Springs, and among them is enjoying a peaceful stay in rental cabins.
While staying in the stunning cabins, you can go on hikes, walk along trails, go sightseeing, observe the unique flora and fauna of the area and refresh yourself with mind-blowing views of rolling hills, woodlands, animals, and water bodies-mainly, hot springs. 
A huge variety of cabins can be rented out to enjoy family getaways, romantic getaways, friends trips, and even solo trips.
Some of the best cabins that can be rented out in Hot Springs to relish the beauty of nature and rejuvenate yourself include:
1. Dock Holiday:
If you are looking for a unique place that will blow your mind and keep it mesmerized for years to come, Dock Holiday is the place that you must visit.
It is a unique cabin with amenities that are hard to believe exist in woodland and secluded areas.
Dock Holiday is the perfect wooden home with the best facilities and even a real log 16-foot fireplace. 
This is a secluded cabin and is cozy enough for many family and romantic getaways.
It is a great cabin to rent out if you want to refuel your soul and are looking for a refreshing escape. 
Both the interior and exterior of the cabin are thoughtfully designed and decorated for the best aesthetics and the most memorable and replenishing getaway. 
2. Cottage on Spencer Bay:
Cottage on Spencer Bay is the ultimate spot for romantic and couple getaways. 
It is the perfect place for travelers and vacationers without children. 
The mesmerizing views of the rolling hills and crystal clear water sparkling in the Sun will surely offer unforgettable views.
You can enjoy different water sports that will spike your adventurous side and make you live your dreams. 
Not only the outdoor facilities and views, the interior of the cottage itself is inviting and will offer a refreshing stay.
The cottage is designed with a minimalist approach but is rich in sophistication and elegance.   
The cottage also offers a private dock where you can lie down at night to stare at the glimmering stars and wander away in your thoughts. 
3. Restful Lodge:
Restful Lodge is a huge wooden cabin on expansive private land that offers a private boat dock. 
It is on Lake Hamilton and offers spell-binding views of the glistening water and the captivating scenery.
You can take a canoe or a boat ride across the lake to immerse in the water's calm and replenish your soul with nature's beauty and serenity.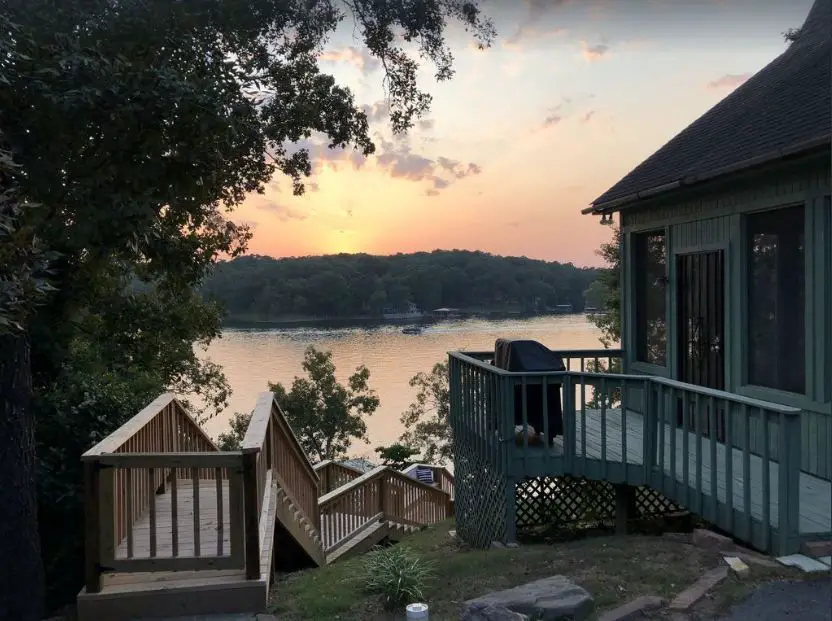 It is the perfect escape for your vacations with pleasant weather, many activities, excellent facilities, and enthralling views. 
At Restful Lodge, you will enjoy the beauty of nature and many indoor facilities for families to enjoy their stay while being indoors.
It is one of the best retreats to enjoy during your vacations.
4. Rustic Renovated Lake Area Log Cabin
This rustic log cabin dates back to the 1920s and offers rustic vibes, a touch of history with spellbinding scenic views. 
The log cabin has been renovated to install modern facilities, but the rustic vibe remains intact, and this makes it unique.
It is situated perfectly to enjoy nature views and stay close to recreational activities and basic amenities. 
You can get easy access to shopping malls and restaurants while simultaneously enjoying nature's wonders. 
Besides that, you can enjoy the many facilities provided in the cabin. 
It is a great place to rent out for families as well as couples looking for an escape from fast-paced daily life. 
5. Sunset Ridge
Another fabulous place to go for a mind-refreshing retreat is Sunset Ridge which is on top of Jack Mountain. 
It is a perfect secluded spot for romantic getaways where you will be alone with your loved one and can spend quality one-on-one time without distractions and disturbances. 
The cabin is equipped with all necessary facilities and basic amenities, making your stay comfortable. 
You can bring your pets with you, making your stay more memorable and enjoyable.
6. Mid-Century Modern
The luxuries of life have made us addicted to them, and solely enjoying and living with nature can be difficult for us.
What if all modern facilities and nature are offered together?
Yes! You read it right, Mid-Century Modern perfectly combines a fully equipped, modern, and luxurious home and the beauty and calm of nature.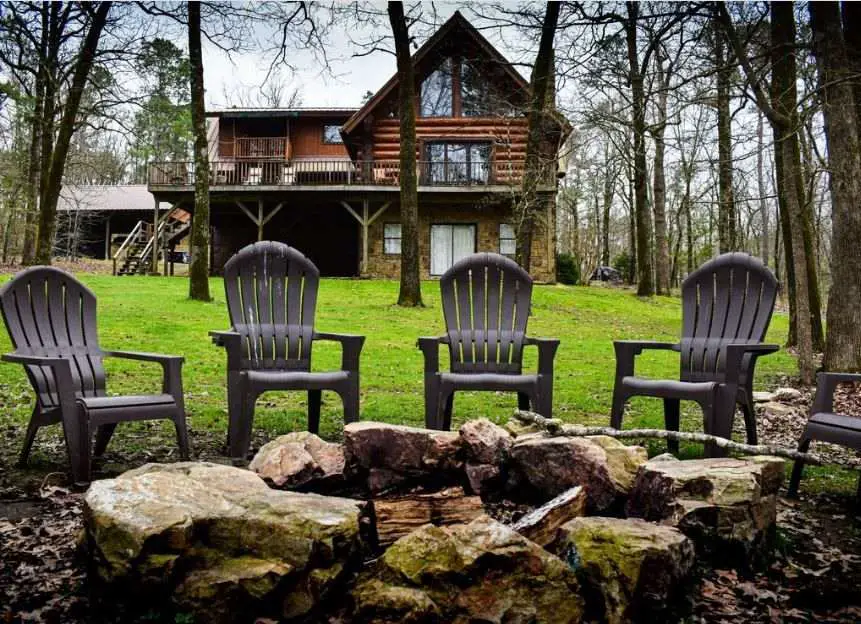 This modern home will disconnect you from the fast-paced world yet offer all the luxuries of life.
The view from the house is splendid and is sure to take your breath away. 
With no Wi-Fi facility, it is a perfect chance for you to get some time off social media and ponder over life and observe the charisma of nature. 
7. Hot Springs Log Cabin
Another unique log cabin to rent out is the Hot Springs Log Cabin, which is close to the town but is amidst nature and will keep you captivated with its charm and unmatched beauty.
The cabin is completely equipped with all facilities and also offers a functioning kitchen.
So if you wish to cook your own food in the middle of nature, you can do so in the cabin.
It is close to Lake Hamilton, which makes it accessible for many more outdoor activities. 
You can even drive to nearby restaurants and shops to enjoy the local taste.
8. Lake Hamilton A-Frame
Waking up to scenic water views is almost everyone's dream.
Lake Hamilton A-Frame is the perfect Lodge to enjoy mesmeric scenes of Lake Hamilton from the spacious and luxurious cabin.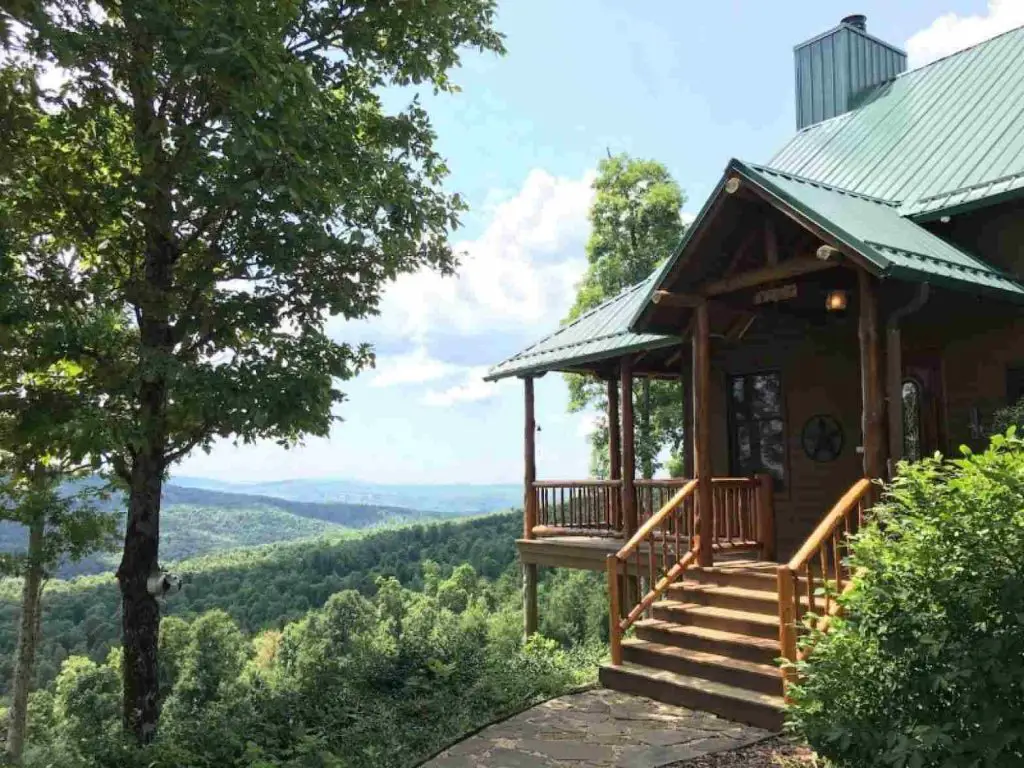 It is a cozy place for couples and families to enjoy the perfect vacation at the lake.
The deck and the dock are both eye-catching features of the house other than the fully equipped, functional, and modern kitchen and aesthetic interior. 
Conclusion
Arkansas is a small resort town that is home to majestic mountains, refreshing hot springs, and unmatched natural beauty. 
You can enjoy a revving and refreshing escape from your mundane routine in the amazing cabins mentioned above.
There is an enormous variety of cabins to choose from, and you can spend the time of your life in these wooden cabins amid nature!