Looking for a unique experience to experience Arkansas's nature up close while still ensuring the comfort of a home?
Well, the answer to that is a charming treehouse!
Home to dense woodland, gushing rivers scenic trails, and gorgeous lakes, Arkansas is named The Natural State for a reason!
From Ouachita National Forest to the Ozark Mountains and Lakes, there are loads of outdoor activities and wildlife to see here.
And one of the best ways to experience the natural treasures of Arkansas is to rent a Treehouse
The good news is there is a whole variety to choose from! 
Most Treehouses are situated conveniently close to trekking trails and tourist destinations.
There are also a variety of sizes to choose from: compact and rustic that ensure a typical treehouse experience to luxurious multi-story lofts that even have hot tubs-the choices are practically endless.
Planning to rent a treehouse for your next vacation? 
Well, look no further because here is a list of the ultimate treehouse recommendations.
Enchanted Treehouse Resort
These treehouses are on 52 acres of a private area that make up the resort on a mountainside in Eureka Springs, Arkansas.
These treehouses are made to house 2 adults each, and are full of character and charm.
The amenities provided include free Wi-Fi, a refrigerator, a small kitchenette with dishes and cookware, air conditioning, and a hot tub.
Staying in these cabins is a great way to see wildlife. 
Guests often come across deer, wild turkey, and even eagles!
Keep in mind you can only pay using your credit or debit card. Cash is not accepted at check-in.
The rental prices currently range between $209-$289 per night plus tax.
Most of the time you have to book the treehouse for two nights at least, unless a single night booking is available.
Be sure to check in advance!
Eureka Springs Treehouses, Caves, Castles & Hobbits
The Eureka Springs Treehouses and Hobbiton structures were fashioned after the owners' experience taking shelter in a cave in a storm while touring the Irish countryside.
The memory inspired them to create a similar experience in Eureka Springs. 
Thus the romantic Hobbit Treehouses, caves, castles, and covens were made.
The treehouses are nestled between dense foliage and perched high on cedar logs, and with a waterfall close enough to hear the water bubbling.
Each treehouse has a theme: Venice, Santa Fe or New York can be your destination!
Each treehouse has a private porch. 
When you stand there, you see the most wonderful view of packed woodland, closeting you in your little forest world.
The treehouses are decorated with twinkling lights and painted with quirky colors giving them a magical, candlelit effect.
The structure itself is a visual delight!
The hobbit cave itself is built into meandering passages that lead you straight to a jacuzzi for two.
Continue and you will find yourself in the cavernous living room with enormous windows to gaze at the forest outside.
You can also take advantage of the private courtyard, be immersed in the wildlife of the woodlands, and watch the squirrels scampering away and the songbirds whistling their sweet songs.
Its unique location makes it a very picturesque scenery for your wedding photos, or a relaxing backdrop for your vacation trip.
Price: $275 per night.
The Original Treehouse Cottages
The Treehouses are a far cry from the treehouses built in backyards. 
The treehouses at the Original Treehouse Cottages were custom-built with comfort and luxury in mind.
The Treehouses can accommodate two adults and feature a heart-shaped Jacuzzi and full kitchenette.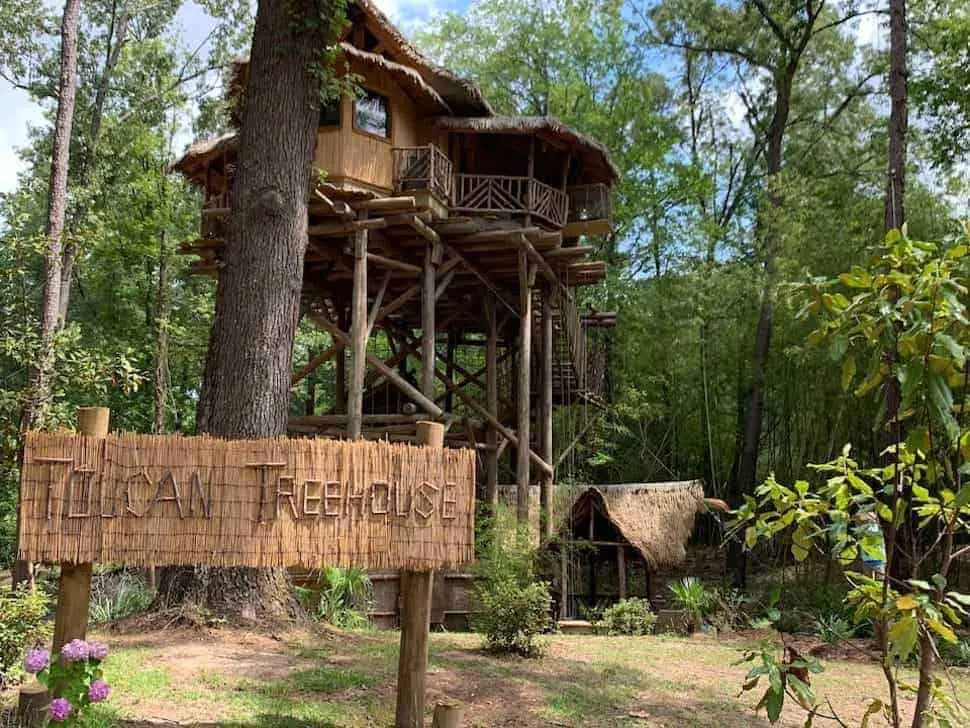 The treehouses are offered in two different wooded locations in Eureka Springs.
The In-Town location has three tree houses each with a queen-size bed and are priced at $199.00 per night, plus tax.
The Hidden Forest location has treehouses with King-sized beds and cost $219.00 plus tax for one night.
One-night stays are not available, a two-night minimum policy is employed here.
Hot Springs Treehouse
The Hot Springs Treehouses are surrounded by beautiful foliage in the Ozark Mountains. 
The location is bordered by a gentle creek and is only minutes away from downtown Hot Springs National Park, Arkansas, and Northwoods Bike Trail. 
The Treehouses are built twenty feet above the ground and provide impressive views of the surrounding landscape.
The private back porch is the best place to sit and relax, read, grill, or just bask in nature's stunning beauty.
The facilities available include a King-sized bed, a bathroom with a large shower, equipped kitchen, stove, microwave, coffeemaker, refrigerator, toaster oven, wi-fi, an HDTV and a DVD player, a fireplace, hot tub, gas grill, and also a porch swing.
It is also a self-check-in.
The rental rates run between $275.00 – $289 per night.
Whispering Pines Treehouse
This sweet wooden treehouse with an antique wood accent harvested from an abandoned schoolhouse is a splendid choice for a weekend getaway.
Surrounded by a lovely canopy of trees, the Whispering Pines treehouse is a place of peace-quiet enough to hear the soothing sounds of wind whispering through the leaves.
Sit on the porch swing to unwind and let nature gently relax you and forget about the worries of the real world!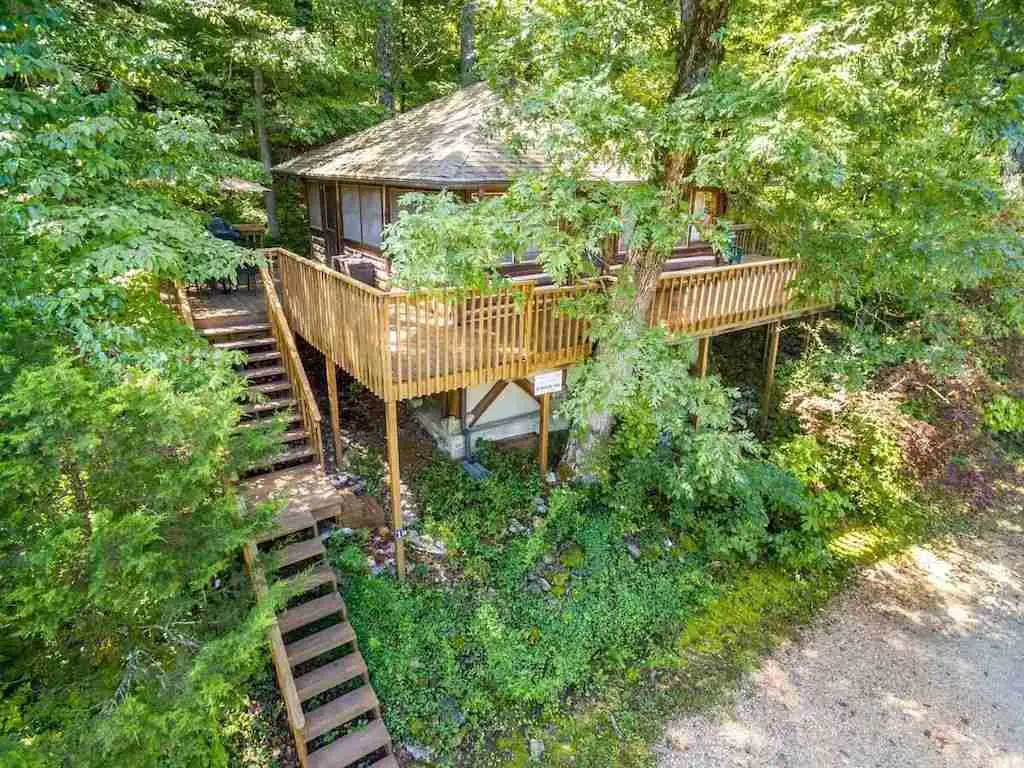 You can also make a simple meal using the small kitchen but it does not have a stove, or you could grill using the gas grill outside.
A hot tub also awaits you. Fitted onto the deck, you can hang out for the evening while enjoying the view.
All Seasons Treehouse Village
These country-style Eureka Springs Chalets are gorgeous to look at. 
With their fun colors and unique structures, they make the perfect Instagram post!
They are equipped with a private bathroom, Tea/Coffee Maker, flat-screen cable TV, DVD player, and free Wi-Fi.
Each Treehouse chalet has a personal patio and a seating area. 
Guests can enjoy the countryside from the privacy of their individual units. 
Protected garage parking is available for motorcycles.
The Treehouse Village All Seasons is less than a mile away from Harmon Park.
You should also visit the Eureka Springs Historical Museum while you are there as it is only a five-minute drive away.
It is popular among couples looking for a place to spend a romantic weekend.
Toucan Treehouses
This is the answer to your quest for luxury in treehouses.
The treehouses are on 250 acres of private property packed with forests and about five miles of hiking trails in Arkadelphia.
Each treehouse is in a plush 10-acre garden setting giving off a jungle vibe with a canal lagoon African Queen type riverboat.
The treehouses are built thirty-five feet in the air accessible by a staircase.
There is also a cargo lift to get your luggage and other necessities up there.
This pet-friendly vacation rental can comfortably accommodate six people in its master bedroom, two loft bunks, and one tiled bathroom. 
The cabin also has a modern and functional kitchen, television, internet, laundry, and a barbeque grill outside.
There are three porches built overlooking jungle gardens and lakes so that you can take full advantage of the amazing scenery all around you!
Another benefit of the location is its proximity to Lake DeGray State Park which is only a fifteen-minute drive and the Caddo River is a mere five minutes away. 
Camp Winnamocka and Interstate 30 are also close, the place is also just one hour south of Little Rock, and thirty-five minutes from Hot Springs.
Lake Lucerne 1930s Treehouse Cabin
This treehouse is at the end of the road overlooking Lake Lucerne, right outside of Eureka springs and less than two miles from downtown. 
The treehouse has one bedroom and is supplied with a queen-sized bed, a jetted bathtub, and a coffeemaker, microwave, fridge, stove, and sink that make up the full kitchen.
This charming treehouse sits high among the canopy of trees and features a spacious deck overlying the pristine Lake Lucerne.
The deck is furnished with a table and chairs that make up a delightful dining area to eat while raking in the enchanting views.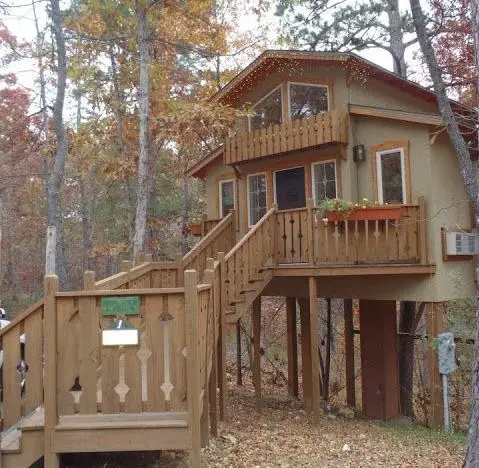 There is a gas grill on the deck you can use for barbeque.
The treehouse also has enormous glass windows that let in ample sunlight and provide a beautiful view that makes it appear as if you're truly sleeping in the middle of the woods!
There are many scenic trails all around the lake to take calming walks but note that swimming or fishing at the Lake is prohibited.
Although the treehouse is built in a secluded, forested area, it is only a short drive from town where you can find plenty of great places to dine at.
Some delightful spots nearby include The Filling Station Restaurant, Cafe Amore, and Thai House Restaurant.
The Southfork Treehouse
This treehouse is the perfect destination for a relaxing weekend or a place to spend the night as you chase adventure at the Southfork River or the Spring River close by. 
The accommodations include a loft accessible by a ladder and are furnished with a queen bed. 
The main floor also has a queen sleeper sofa.
A full kitchen provides all amenities including a gas range, refrigerator with ice maker, and espresso machine. 
The shower is fitted with dual shower heads and a skylight! 
A wood-burning stove keeps the house warm and the wrap-around porch has a commercial gas grill.
Best time to Rent a Treehouse
Arkansas has one of the most scenic woodlands in the US. 
Springtime symbolizes new life, and it is clear in the way the Ouachita Forests bloom.
By April, the woods turn a lush green and the lively songbirds and wildlife start to come out of the woodworks and the cold lingers just enough to make the weather pleasant.
However, fall around the Ozark Lakes such as Beaver Lake and the scenic trails of the State Parks is a sight to behold.
The foliage changes colors, and the river and waterfalls are in full volume and provide phenomenal views to enjoy from your treehouse.
Safety
Rental treehouses in Arkansas are perfectly safe.
They aren't the flimsy structures in backyards that come to mind when you think of treehouses.
These treehouses are sturdily built, almost like a cottage in a tree.
They are large enough to accommodate a whole family and even have full kitchens and bathrooms.
Reservations
Treehouses are a unique experience, well-liked by tourists visiting Arkansas or by locals looking for a nature retreat.
That is why it is important to research and find the treehouse best suited for you and book it well in advance because when the season approaches treehouses all over the state are quickly booked-especially the ones with a unique location or the ones with more amenities.
Treehouses are truly one-of-a-kind experiences, the unique view and location are something everyone should experience at least once in a lifetime.
So, pack light and make tons of memories in these fun locations!