Without a question, E. Fay Jones is one of Arkansas's most talented and awarded architects.
Known for his simplicity and organic style, Jones created architectural designs inspired by the beauty of the Arkansas landscape which received awards such as the American Institute of Architects Gold Medal.
Boyhood and Early Influences
On January 31, 1921, the only son of Euine Fay Jones and Candie Alston Jones, was born in Pine Bluff, Arkansas.
He was named Euine Fay Jones.
Pronounced "Yu – Won", Euine is the Welsh enunciation of John and the name Jones shared with his father.
Although later in life he abbreviated his name to E. Fay Jones to avoid the difficulty most people faced when trying to pronounce his unique name.
Soon after his birth, his family moved to Little Rock, and later on to El Dorado where Jones grew up helping in his father's restaurant "The People's Café".
E. Fay Jones was a creative kid. He loved to draw and create.
People around him recall they would find him drawing everywhere and all the time. 
Over time, he combined his interests and ventured into the world of architecture.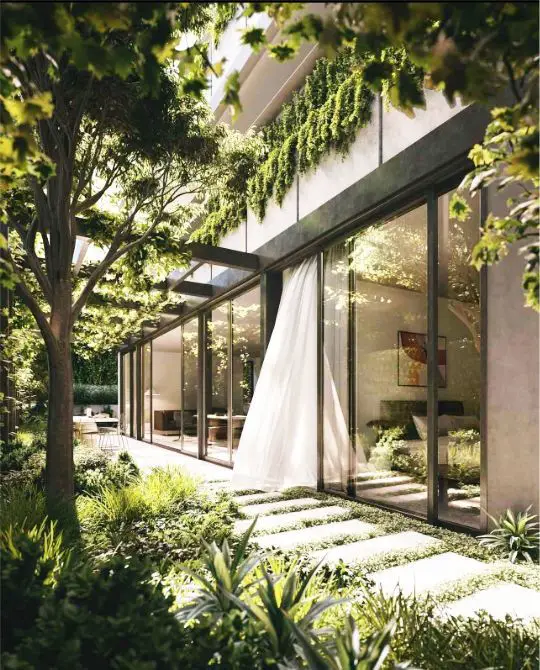 As a boy, Jones found great pleasure in building treehouses, and he carried this interest in construction all the way through middle and high school. 
He got so good at it he even installed a brick fireplace, roll-up doors, and a screen into his treehouse.
Then in 1938, Jones came across a short film about the Johnson Wax Headquarters designed by the famous American architect Frank Lloyd Wright and he was hooked!
His takeaway from the movie was to combine his love for 'drawing and building' and create.
Entering the world of Architecture
Jones pursued Architecture as a career.
He enrolled in engineering classes at the University of Arkansas, hoping to enter the US Naval Academy. 
Unfortunately, because of the changing political climate, he could not do so.
World War II
With the onset of World War II, Jones enlisted in US Navy and served for fifteen months.
He was quickly promoted to 'lieutenant naval aviator' and operated torpedo and dive bombers during his service.
Before the war had begun, Jones had met Mary Elizabeth Knox "Gus" back in Little Rock.
As their relationship progressed, they got married in San Fransisco on January 6, 1943, while Jones was on leave.
They had two daughters together.
Post War Era
As the war ended, Jones returned to Arkansas.
In 1945, he was employed by an architectural engineering firm as a drafter.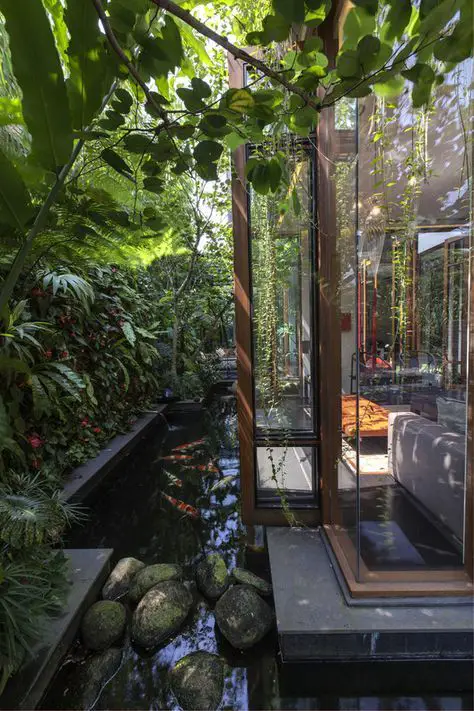 Even then, his potential was apparent, and he was encouraged to join the new architectural program established by John Williams at the University of Arkansas.
In1950, he graduated from the UA with a BS in design. 
After that, he was accepted into the Master's Program at Rice University in Houston and graduated in 1951.
Design Career
In 1949, Jones attended the AIA Annual Convention in Houston promoted by Williams.
He went hoping to meet his longstanding inspiration Frank Lloyd Wright, who was receiving a Gold Medal that night.
Finally, at the post-convention party, Jones was introduced to Wright, his mentor later in life.
In 1951, Jones was offered a teaching position at the University of Oklahoma. 
He accepted it and began lecturing at the University. 
During this time, he also worked closely with renowned architect Bruce Goff and gained professional insight into modern architecture.
He completed his tenure in 1953 and returned to Arkansas to pursue his private practice, and teach at the Unversity of Arkansas. 
He was later promoted to the Dean of the School of Architecture UA.
Jones met Wright again while teaching at Oklahoma University when Wright came to the University as a guest lecturer, during Easter 1953.
Wright invited Jones and his wife to visit his Arizona studio Taliesin West. 
Jones was then invited to accept an apprenticeship at Taliesin East in Spring Green, Wisconsin.
Both Jones and his wife became members of the Taliesin Fellowship.
They came back every year for the next ten years as both friends and apprentices.
As for his private practice, he established a firm in 1960.
He employed a team of architects, local builders, woodworkers, and stonemasons who worked together to create rustic log and stone buildings that still somehow retained the magic that the treehouses of his youth possessed. 
He worked with partner Maurice Jennings for over twenty-five years.
The firm received accolades in the US as well as internationally across Europe and Japan.
Influence of John Wright
Frank Lloyd Wright's influence is most clearly recognized in the organic aesthetic that is prominent in E. Fay Jones' work.
The way Jones used the principles of organic architecture was reminiscent of Wright's style.
The simplicity seen in his construction, his utilization of native material, and his talent at coalescing a structure with its surrounding landscape reflected Wright's influence.
Architectural Style 
E. Fay Jones was a man with a quiet and introverted personality. 
He found serenity in the seclusion and stunning landscape of the Ozark Mountains.
In his Architectural style, it is easy to observe his aversion to fast trends; instead, you can catch glimpses of earthy, organic details reminiscent of the Ozarks, especially in his use of native materials and traditional forms practiced locally.
Integrating his unique ingenuity with the influence of his mentors created the distinct effect displayed in using vertical glass panes, and awareness of interior and exterior spaces of light.
The American architect was also known for putting together unique displays as public art projects and creating interesting furniture designs and other structures such as the J. William Fulbright Memorial Peace Fountain.
Across all boards, Jones' designs were based on intimate and introspective details that reflected nature.
Famous Architecture
Famous buildings designed by E. Fay Jones include 
Thorncrown Chapel in Eureka Springs, Arkansas
Mildred B. Cooper Memorial Chapel in Bella Vista, Arkansas
Pinecote Pavilion at the Crosby Arboretum in Picayune, Mississippi
Anthony Chapel in Garvan Woodland Gardens in Hot Springs, Arkansas
Marty Leonard Chapel in Fort Worth, Texas
John B. Begley Chapel on the campus of Lindsey Wilson College in Columbia, Kentucky
Thorncrown Chapel in Eureka Springs, Arkansas
The Thorncrown chapel is an American classic. 
Designed by Jones in 1980, the ethereal chapel resides among maple, oak and pine trees in the woods surrounded by the Ozark Mountains. 
The design of the chapel resembles the image of the forest. 
It was built to have over 425 glass windows and 'a repeating column and truss structure' symbolizing the pattern created by tree trunk and shafts of sunlight pouring out from between them. 
The rising structure of the chapel is like a "forest within a forest".
The chapel stands 48 feet tall, lies 60 feet long, and is only 24 feet wide.
A central skylight filters light to fall through in a halo like effect.
Custom lanterns are fitted onto the columns.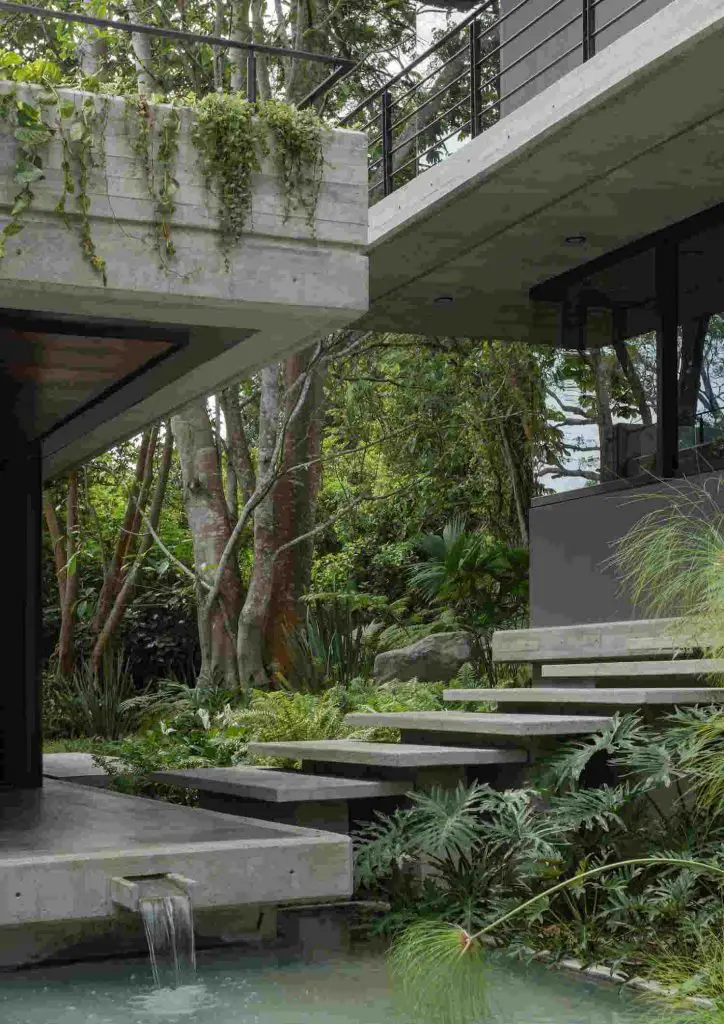 The light of the lanterns is augmented by the reflection on glass and against the dark background of the night it brings about a view straight from a fairytale.
Every truss was made of local pine.  2×4', 2×6' ,and 2×12' pine panels were put together at the location and then raised and integrated into the building of the chapel.
This resulted in the least amount of site impact possible.
In 2006, Thorncrown was named to the AIA's exclusive list of Twenty-five-Year Award buildings.
Thorncrown Chapel was selected as the fourth most favored building of the twentieth century in a poll of the membership of the American Institute of Architects. 
The Mildred B. Cooper Memorial Chapel in Bella Vista, Arkansas
A popular wedding location and tourist attraction today, the Mildred B. Cooper Memorial Chapel was originally commissioned by John A. Cooper, Sr. to honor his late wife Mildred Borum Cooper. 
E. Fay Jones and Maurice Jennings designed this chapel nestled in woodlands surrounding by Lake Norwood. 
The awe-inspiring chapel features Gothic Arches that frame 4,460 square feet of glass required 31 tons of steel to be created.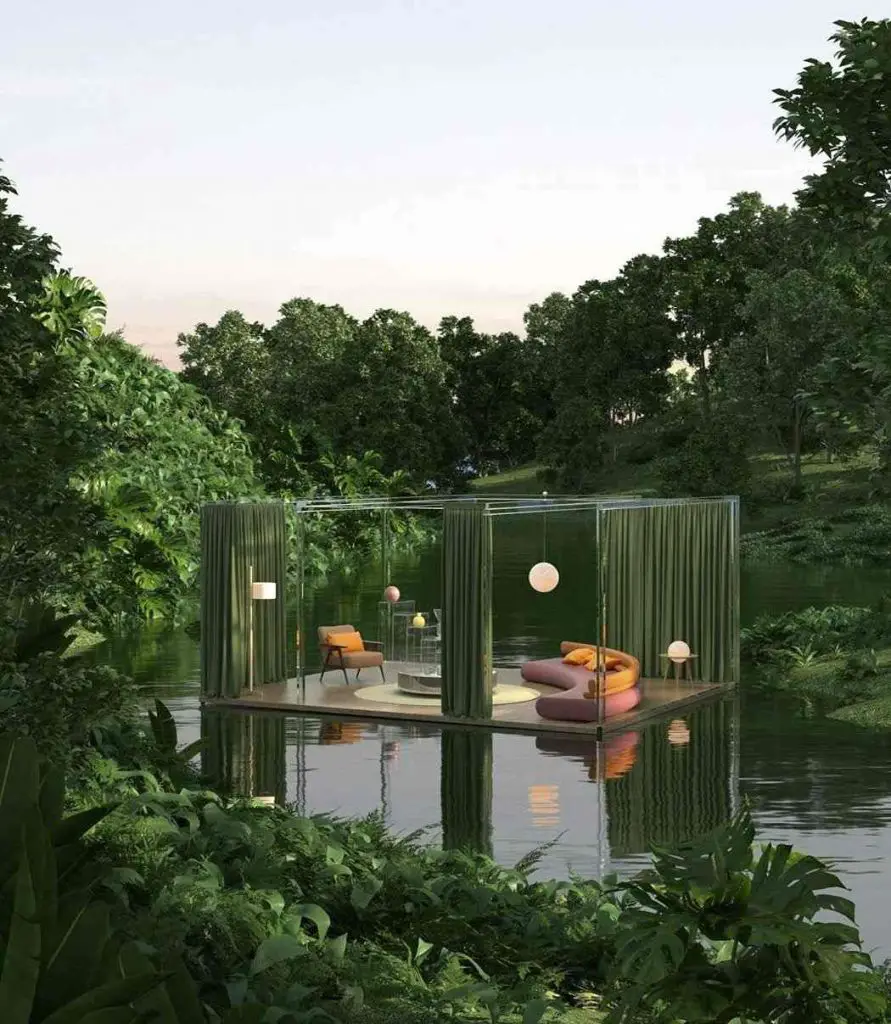 Although it appears to be open air, it is actually completely glass enclosed and air-conditioned. 
Soon after its construction, the chapel garnered generous praise and a critic even claimed that it "quietly commands a dignity and presence uncommon among buildings of our era."
Honors and Awards
In his old age, Jones took up sketching again and filled many sketchbooks with his musings. 
Despite suffering from Parkinson's and Heart Disease, he continued to enjoy life surrounded by friends and family and remained involved with his interests in art and architecture.
E. Fay Jones passed away at his home in Fayetteville on August 30, 2004. 
He is survived by his wife and two daughters.
In 2009, the School of Architecture at the University of Arkansas was named 'The Fay Jones School of Architecture and Design' in his honor.