Arkansas is a wonderful and versatile state with a vast variety of natural attraction sites to fun festivals and attractions.
The Arkansas State Fair is one such entertainment facility offered yearly for the people of Arkansas and any other state who wishes to join.
It is one of the most fun-filled, entertaining, and largest fairs in the state. 
The Fair takes place for ten long days that are packed with entertainment, amusement, and leisure activities for all. 
During this time, the Fair entertains over 450,000 visitors, which is a tremendous turnover. 
The Fair has even been ranked amongst the top 50 fairs and festivals in the Amusement Magazine four times in a row, a tremendous achievement for the organizers.
The event takes place on a huge ground with many facilities and basic amenities for visitors. 
This event is a must-visit place for people of all ages to enjoy the time of their lives at the Arkansas State Fair. 
When does the Arkansas State Fair take place?
The Arkansas State Fair is an annual fair that takes place every year from September to December. 
Although initially, the Fair would have been celebrated in October, the dates are not fixed now, and every year the dates are announced several months before to make all necessary preparations.
Vendors and sponsors have enough time to work on their products and present them at the festival in the best way.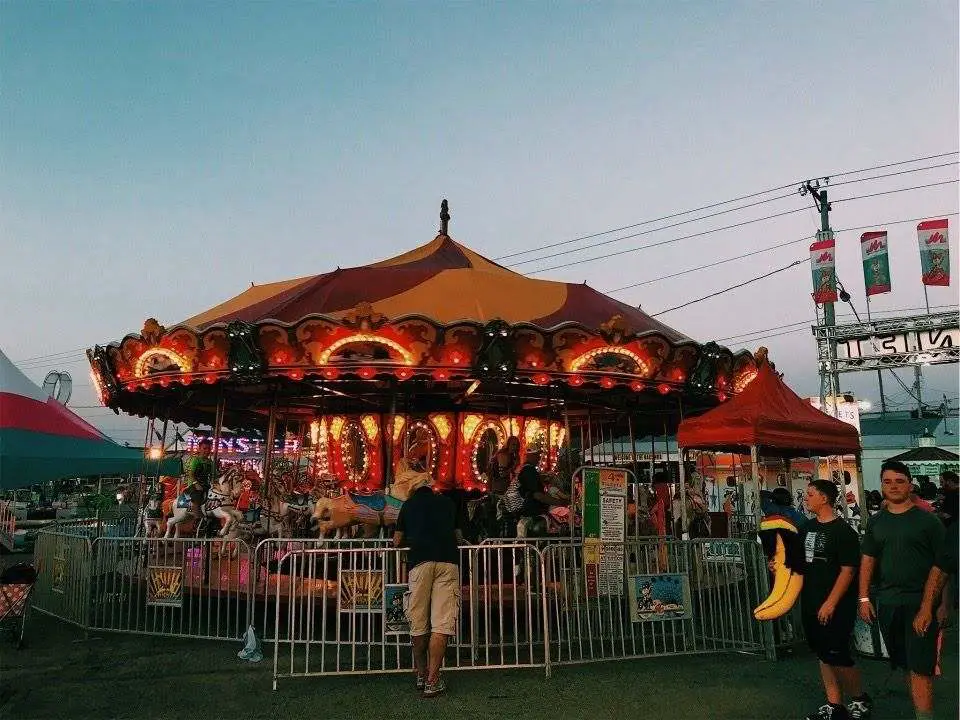 The organizers are very efficient and manage, plan and organize the event efficiently and proactively.
All necessary preparations, renovations and arrangements are made ahead of time to hold an organized and well-managed fair. 
Where does the Arkansas State Fair take place?
The Arkansas State Fair always takes place at the Arkansas State Fair Complex, Little Rock.
It is a vast complex with multiple buildings and facilities that can entertain massive festivals and enormous crowds with no trouble. 
The Arkansas State Fair Grounds Complex covers almost 140 acres of land on which there are six huge buildings, around 120,000 square feet each, two equestrian warmup arenas, 500 cattle ties, 730 horse stalls, Barton Coliseum with 25,830 square feet of floor space that can seat 7,150 people at a time, meeting facilities for huge crowds, and sufficient parking for all visitors.
Despite being so large, the facilities and features of the complex are commendable and nothing short of perfect. 
The state-of-the-art facilities, basic facilities and services offered by the organizers work together to provide comfortable, safe, well-managed and organized entertainment.  
The fairground is accessible from Little Rock as it is only a five-minute drive from downtown.
It is also accessible from the Clinton National Airport.
Who organizes the Arkansas State Fair every year?
The Arkansas Livestock Show Association organizes and manages the entire event. 
It is a non-profit organization that has a mission to spread education and awareness regarding agriculture and livestock among the people of Arkansas. 
In their pursuit of educating people and creating awareness, the association conducts and organizes exhibitions, fairs, rodeos and other events to provide entertainment and educate the people regarding resource management, conservation, livestock breeding, horticulture, improvement of breeds, and much more. 
The team is highly devoted to achieving the mission and making everyone aware of their responsibility towards the community. 
Ultimate Guide to the Arkansas State Fair:
The Arkansas State Fair is about to bring unlimited entertainment to the people of Arkansas and other states. 
It is a perfect place to enjoy scrumptious food, music, rides, amusing games, livestock exhibition, unique attractions, and many competitions together under one roof.
Some of the major attractions you can enjoy at the Arkansas State Fair include:
Food:
What is a fair without amazing street food?
In order to make the State Fair the perfect place to enjoy, the Fair is packed with many options, including many food favorites, including funnel cakes, hamburgers, corn dogs, cotton candy, pizza, and french fries. 
The State Fair Complex is an enormous ground. 
To ensure that every area of the complex is abundant in delicious food supplies for visitors visiting different parts of the Fair, there are over 50 food stalls scattered across the complex.
The food variety is vast and will have something for everyone, including children and health-conscious people. 
An enormous variety of cold and hot beverages at the food stall are also available.
Competitions and Talent Shows:
The State Fair has many fun-filled activities that encourage social and mental development, that includes an art competition.
Other Farm Bureau Arts and Crafts Building competitions include cooking competitions, hobbies competitions, arts and crafts, and flower arrangements.
Other than that, live cooking and cook-offs also take place to spark energy in the visitors and keep the fair game going strong. 
Furthermore, Fair Queen Pageants and Youth Talent Competitions also take place followed by crowning and award ceremonies to encourage and bring young talent up front. 
Shows and Exhibition:
The State Fair hosts several mind-blowing exhibitions and amazing shows. 
There are different shows and exhibitions planned for different days, and any visitors can get the schedule to enjoy their favorite show. 
The shows and exhibitions target different age groups, from amazing petting zoos for small children and adults to huge experimental museums, food shows and educational exhibits; the Fair has it all! 
Rides:
Rides and amusing swings fill the Fair with life and energy. 
The thrilling screams and scary rides are the most memorable events at the State Fair.
The State Fair makes sure that there are rides for every age group so that everyone can enjoy it equally.
So you can find musical, light bouncing and swaying rides to thrilling and adrenaline-rushing rides all in one place.
Some thrilling rides you can find in the Fair include Euro Slide, Mach 3, Giant Wheel, Crazy Mouse Roller Coaster and Mega Drop.
While rides for younger children include Kite Flyer, Spidermania, Balloon Race, Lollipop Swings, Bumble Race, and carousel. 
Music:
The most entertaining thing about the State Fair is that even if you are not doing anything, the constantly playing music will keep you entertained. 
The Fair holds several concerts by famous singers throughout the event to provide amazing and unique entertainment daily. 
You can get the schedule on the first day to plan accordingly to attend your favorite singer's concert. 
The best part is that they are free after the gate admission; however, if you are looking for a premium experience, you will have to pay for it.
Livestock:
After all, the Fair is about creating awareness and educating people about livestock, horticulture, and agriculture; a huge cattle exhibition is not a surprise.
Visitors can enjoy a unique experience with cattle and other livestock, including poultry, rabbits, birds, and sheep. 
Different livestock competitions are also held on multiple days of the event. 
Basic Facilities:
Such a huge Fair cannot succeed if basic facilities are not provided up to the mark.
The Arkansas State Fair organizers ensure no visitor faces any difficulty while at the Fair.
Huge parking areas have been allotted with separate charged and premium parking lots for the convenience of the visitors.
Basic facilities like restrooms, changing rooms, washrooms, and drinking water supply can be found throughout the complex.
For the visitors' convenience, the Fair's daily schedule can easily be got through the website.
Maps, shows, exhibitions, competitions and food details can now easily be gotten on your smartphone without physically visiting the Fair.
The information access through smartphones has made it easy for interested visitors to plan their itinerary accordingly. 
Gate entry fee is also minimum and even less for children and older citizens. 
Children under six do not have to pay a penny!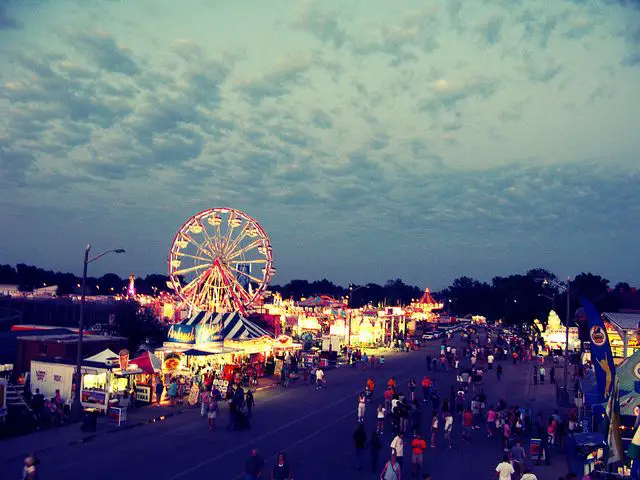 The ticket price can be even further reduced if the tickets are purchased in advance via the website. Isn't that just amazing?
Wristbands for rides can be purchased to escape the hassle of buying tickets for every ride individually, and the band will also make the enjoyment more affordable.
Through advanced purchases, wristbands will also be more cost-effective.  
Organizers are present throughout the complex to guide visitors and help them thoroughly enjoy their visit to the Arkansas State Fair. 
The organizers are friendly and approachable. 
Final Thoughts:
Arkansas State Fair is a one-of-a-kind fair that houses many entertaining activities, including livestock exhibitions, arts and crafts, magic shows, rides, carnivals, food stalls, and whatnot!
The festival takes place at an easily accessible location from downtown Little Rock and lasts for ten days, during which around 500,000 visitors come to visit and enjoy the Fair. 
It is a famous fair packed with non-stop entertainment and activities. So, if you are visiting Arkansas, do not miss out on this amazing Fair.