Glass chapels will give you the heaven on earth feeling as soon as you step foot in them.
They radiate a lot of sunlight and are an ideal location for weddings and ceremonies.
Of course, glass chapels are mainly places for worship, so once you enter a glass chapel, you may experience immediate bliss and calm.
Not only this, but glass chapels are a great tourist site and can recharge and refresh you from all the stress your life may cause you.
These days, you can see all over the internet that glass chapels are in a forest or hilly area where you can get amazing photos taken as well!
E. Fay Jones; the talented architect
E. Fay Jones is a famous architect known for his silent mountain architecture buildings as he was a fan of quiet and nature.
He was born on 31st January 1921, and passed away on August 30th, 2004 because of heart and lung failure.
As a child, Jones was always very passionate about architecture and would design forts and many treehouses.
Not only this, but he enjoyed showing his talent on paper through drawings. Jones was a very determined child.
He went to the University of Arkansas where he enrolled as a civil engineering student.
Unfortunately, because of World War II, his education came to a standstill, and he worked as a naval aviator pilot instead.
However, after the war, he stayed true to his dream and pursued his passion of becoming an architect for a business in Little Rock, Arkansas.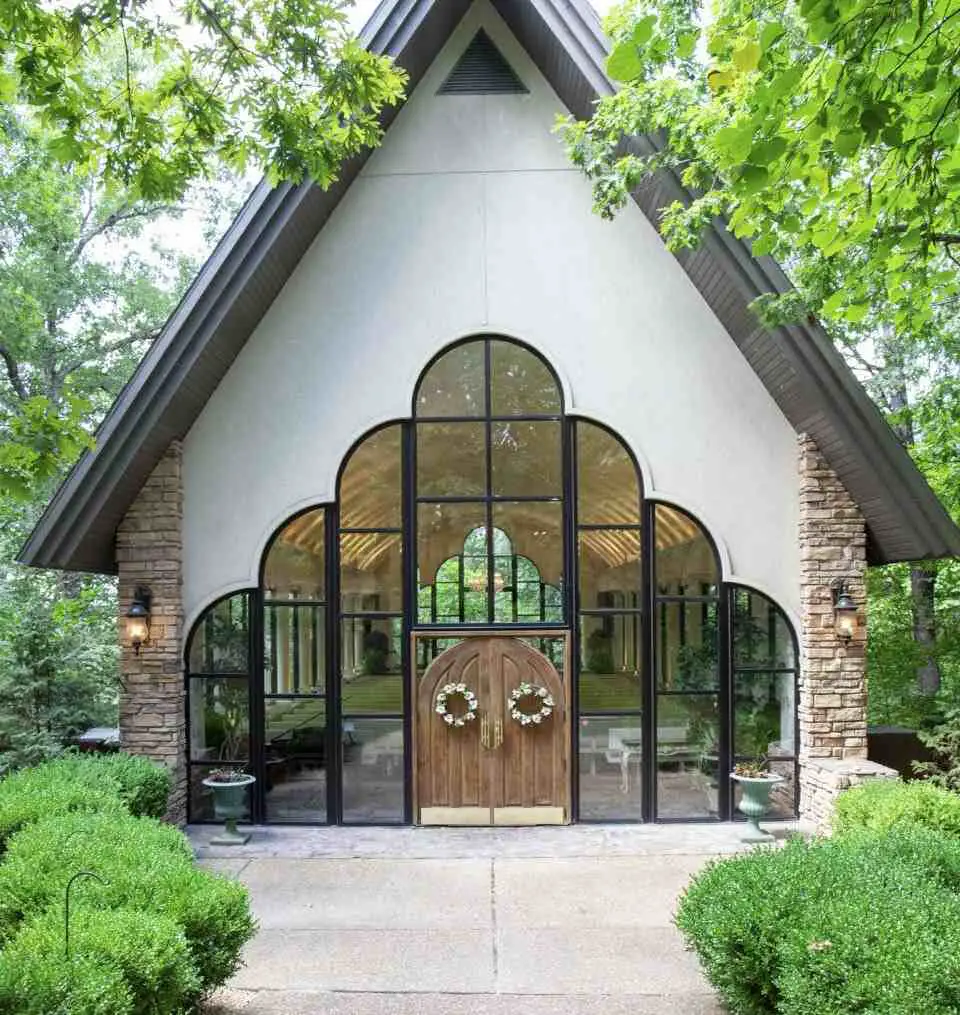 After some time, E. Jay Jones resumed his education after being advised of doing so by his elders.
Therefore, after putting in a lot of effort Jones received a Master's degree from Rice University in Texas in 1951.
He also, later on, taught at the University of the Arkansas School of Architecture for 35 years.
How was E. Fay Jones influenced by Frank Lloyd Wright?
As Jones was working hard for his master's degree he came across Frank Lloyd Wright who was more than a mentor to Jones but also an inspiration for all of Jones' work.
In all of Jones' work, you can see a bit of Wright's organic aesthetic subtly.
In 1953, Jones had the pleasure of being invited by Wright to his studio in Arizona at Taliesin West where he stayed for an additional 10 years with his supportive wife, Mary Elizabeth Knox to work passionately on his career.
How is Jones' aesthetic displayed in his work?
Jones always enjoyed nature and the quiet.
His glass chapels display a substantial form of peace and refreshment to anyone who steps foot inside them.
As seen in his work, Jones was a great fan of the mountains and their beauty so the chapels he supervised and designed were in forested, mountain-like areas. 
The famous Thorncrown Chapel
Thorncrown Chapel has existed since 1980 in Eureka Springs, and it holds great significance as it is at the top of every tourist's list when traveling to Arkansas.
It was one of the first chapels to be built in Arkansas in 1980.
This chapel was also voted the most important building in the 20th century because of its beauty and simplicity.
Those who seek solitude and serenity, this chapel is perfect for you!
Thorncrown Chapel has a 4.8-star rating out of 5 because of its beauty. It has around 400 windows and is around 6000 feet in height.
It reflects on a lot of light from the outdoors as it has 425 windows.
The costs and timings
If you plan on getting married in Thorncrown Chapel, it may be quite costly for you.
For only two hours at the chapel for a wedding, it will cost you around $1295.
On Thursdays to Sundays, one and a half hours will cost $950, and if you need additional hours to rehearse, it will cost an additional $500.
The wedding months at Thorncrown Chapel are January and February.
Keep in mind, though, that the cost is surely worth it because this chapel's interior is like a fantasy!
But, the good part is that there is no cost to enter the Thorncrown Chapel.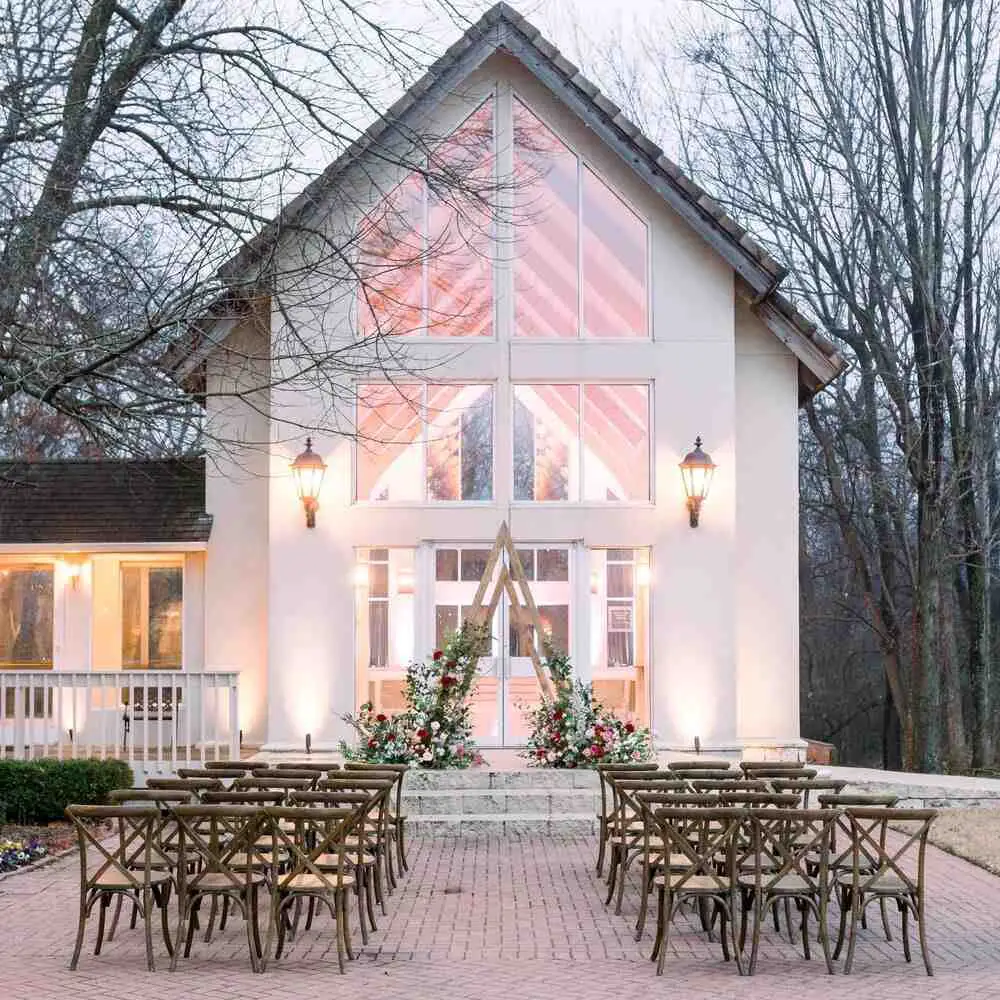 It is the perfect spot for a vacation especially since this chapel is open from 9 AM to 5 PM from April to November and from March to December it is open from 9 AM to 4 PM.
The real inspiration behind Thorncrown Chapel
The retired school teacher; Jim Reed, lived close to where Thorncrown Chapel is and most people would pass by Reed's house to appreciate the nature on his land.
Reed was quite thoughtful and came up with the image of a glass chapel out in the middle of the woods to stop and take a breather during their trip.
To fulfill his dreams and turn them into reality, Reed approached Jones which resulted in the Thorncrown Chapel of the 20th century being the 4th finest design.
Anthony Chapel
Second, there is the Anthony Chapel. This chapel is in Hot Springs, Arkansas at Garvan Gardens. This chapel has 4.8 stars out of 5.
It has beautiful glass and native wood architecture that makes it extremely breathtaking to look at, especially since it is in a forested, lush green area and comprises a ceiling 57 feet high.
This magnificent chapel was made in 2006 by Maurice Jennings who worked by the side of E. Fay Jones for 25 years.
The many skylights in this beautiful chapel can even keep you safe from heavy rain and you will feel as if you are outdoors because of the high glass ceilings, but you'll actually be safe and sound inside!
The best season to attend Anthony's Chapel
The ideal season to attend Anthony's chapel is by far the tulip season in Garvan Gardens.
Tulip season starts in February at the earliest, or March, for sure, till the end of April.
Entering Garvan Gardens in tulip season gives you a heaven on earth energy that can make your entire trip more splendid!
This season makes your trip awe-worthy with the 15000 tulips displayed gorgeously.
This land was purchased in 1920 by Ms. Garvan who treated this entire land like her child: When plants and trees would bloom it would be forbidden to cut them down!
She planned on making this land a residency and a beautiful garden, as it has become now.
Before going to the Anthony Chapel you can stop by for breathtaking portraits and pictures with your friends and family that you will remember for a lifetime.
There is also a gift shop where you can purchase souvenirs for the sake of holding onto the memory of walking through a wonderful garden of tulips.
If you are exploring with children, there are also treehouses and play areas to occupy your child with and to create even greater memories for them!
Anthony Chapel's timings
Anthony Chapel's timings are 12 to 6 PM and it is usually open to all, free of cost.
But, if there is a wedding going on, the chapel will be booked and you cannot visit so don't forget to check before going!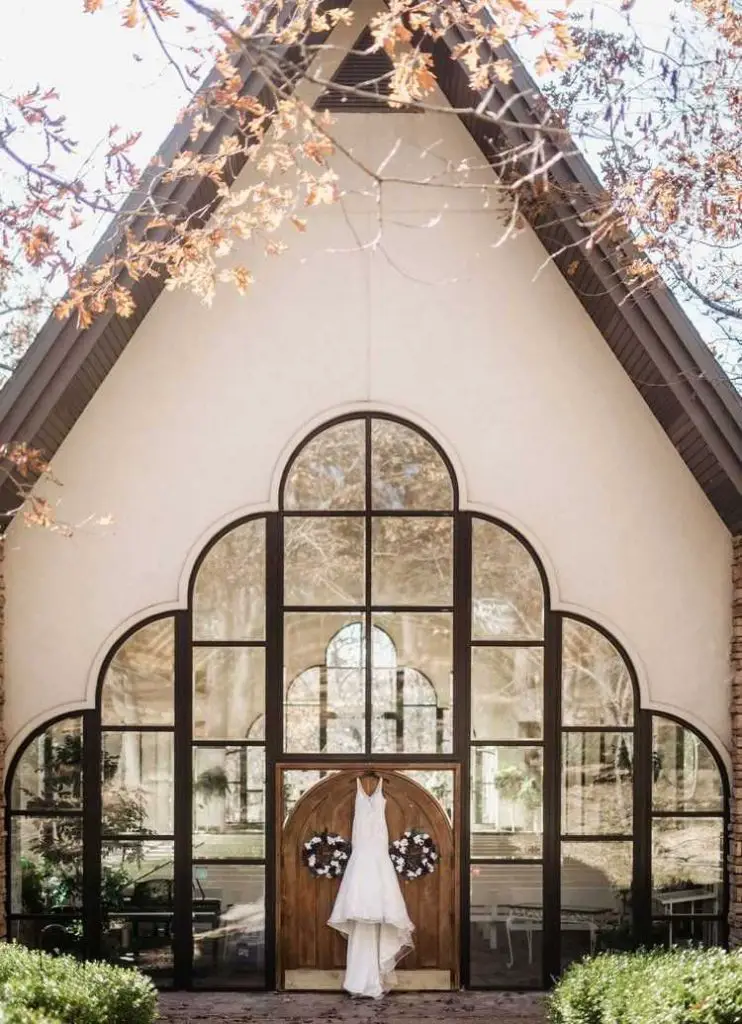 Wedding ceremonies can also be held in this chapel from a range of $3000 to $4500 with a security deposit of $500.
Annually, there are around 200 weddings at Anthony chapel so it is the perfect wedding location.
Though, there are around 160 seats in this chapel so you can only accommodate 160 guests at your wedding.
Despite the costs and limited space, there are around 175 weddings at Anthony Chapel because of its simplicity and charm!
Mildred B. Cooper Chapel
The Mildred B. Cooper Chapel was constructed in 1988 by E. Fay Jones and Maurice Jennings, so it holds great importance.
It is in Bella Vista, Arkansas, and overlooks Lake Norwood, leaving a beautiful scenery.
The history behind this chapel is to always remember Mrs. Mildred B. Cooper, who was the co-owner of the Cooper Community alongside her husband-The chapel was generously commissioned by Mrs. Mildred B. Cooper's husband.
Since Mrs. Mildred B. Cooper enjoyed nature, God, and her community, thus, having a chapel constructed was the best way to honor her memory.
The architecture
There are 15 arches in the Mildred B. Cooper Chapel that tower over each other by 50 feet, taking inspiration from the Middle Ages and 14th century Europe.
The 31 tons of 4460 square feet of glass give a reflecting and clear-as-day look to the chapel.
The entrance of the chapel is much more unique than the other 2 chapels mentioned above.
Its grand door is 65 feet long and 25 feet broad.
Despite such heavy materials being used to construct it, this chapel always gives a weightless image as if it is floating on air, freely!
Mildred B. Cooper Chapel's timings
The Mildred B. Cooper Chapel is open from 9 AM to 5 PM, 7 days a week for visitors, and a fantasy-like wedding which obviously gives justice to the 4.9 out of 5 stars rating it has gotten.
The brown and green theme in the chapel matches the energy of the fresh and beautiful greenery outside.
But if you are going as a tourist, always call to check in before you go to see if the chapel has no wedding events going on.
Services at Mildred B. Cooper Chapel
Not only weddings, but, baptisms, renewal of vows, cultural events, concerts, and memorial services take place at this chapel.
No matter what the event is you will step out of the Mildred B. Cooper Chapel feeling like a whole new person because of its beautiful interior!